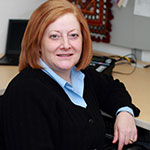 Dr. Joanne Kamens: Scientific Leader and Innovator
Executive Director, Addgene
LinkedIn: http://www.linkedin.com/in/joannekamens
Twitter: @jkamens
---
Bio:
Joanne received her PhD in Genetics from Harvard Medical School then spent 15 years at BASF/Abbott. In 2007 she joined RXi Pharmaceuticals as Senior Director of Research Collaborations. She is now the executive director of Addgene.
Innovating in field of work:
Addgene is a unique, non-profit whose mission is to accelerate research and discovery by improving access to useful research materials and information. Addgene operates a repository for a research reagent called a plasmid and serves as a scientific supply house providing materials to researchers. Plasmids are one of the most commonly used tools in a molecular biology lab. Addgene's innovative approach has created a new way of sharing plasmids that has increased collaboration and is financially self-sustaining.
Impact:
The system created by Addgene's founders has allowed dramatic improvement in time for Material Transfer Agreement (MTA) approval, with the median time now less than 36 hours. The nonprofit, community-building model makes it easy to request and receive plasmids internationally by providing innovative systems to take care of customs, shipping and all legal paperwork. MTAs can be the cause of long (sometimes endless) delays for the researcher looking to obtain resources quickly. This slows down research pace – by the time the MTA is completed, the research opportunity may be lost. Addgene fixes this.
Role Model:
Joanne founded the current Boston chapter of the Association for Women in Science and has grown it to over 300 members. She was the Director of the Healthcare Business Women's Boston Group Mentoring Program for three years and continues to play a leadership role in this innovative approach to help women move forward in their careers. In 2010, she received the Catalyst Award from the Science Club for Girls, and currently serves on the board. In 2013 she became a Fellow of the Massachusetts Academy of Sciences, and currently serves on a number of other non-profit boards. In 2013, Joanne was named a PharmaVoice's 100 Most Inspiring Commanders & Chiefs.
Reinvention / Risk / Momentum:
Pharma, Biotech, Nonprofit…Joanne has worked in 3 different careers and speaks at least once a week to science and tech trainees on career topics. One pet project has been seeding "peer mentoring groups" across the country. So far 10 groups have been started and more every day.
"3 different [science] careers and all along the way bringing women and diverse populations of scientists along with her."