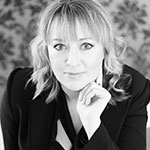 Melissa Sterry: Designing the Future With Integrity
Design Scientist, Futurist, Writer, Designer
http://www.melissasterry.com
Linked In: http://www.linkedin.com/in/melissasterry
Twitter: @melissasterry
---
Bio:
Melissa is a futurist and design scientist specializing in emergent and future sustainable innovation in the built environment, design, manufacturing and materials. She divides her time between research, development, enterprise and communication. She works across academic, commercial and NGO projects, consulting in USA, UK, EU and Russia, writing and lecturing.
Innovating in Field of Work:
• Melissa is developing Bionic City: which transfers knowledge from Earth's ecosystems to a blueprint for a metropolis with resilience to extreme meteorological and geological events.
• Bionic City also serves as a platform for collaborating and co-creating with pioneering bio-inspired designers, architects, engineers, builders, technologists, scientists and artists.
• The founding director of several pioneering start-up projects and companies, including multi-award winning Societás, which was one of the UK's first sustainability think tanks.
• When she see a new opportunity, she weighs it up and if it's got sufficient merit she makes it happen, often starting out with nothing but an idea on paper. If she can't get funding one way, she'll get it another, and if she can't do that she'll focus on collaboration and sharing of expertise and equipment.
Impact:
• Bionic City has attracted a global community of support from academia and industry.
• An inductee of the Global Women Inventors & Innovators Network Hall of Fame, Melissa has been the recipient of several national and international awards.
Role Model:
• An advisor and collaborator to non-profit organizations in The Arts, Design, Science and Technology.
• Works primarily in male-dominated sectors, where the combination of her growing visibility, and her research and practice values have inspired other women to pursue like-minded aims and aspirations.
• Mentors through one-to-one advice, articles and keynotes.
Reinvention / Momentum:
• In her youth, her seemingly hotchpotch interests had no particular relation to one another. Today, it's having insight across these diverse fields that informs and drives what she does.
• Now, like never before, the value of 'interdisciplinary' skills is being valued. It's the spaces where sectors converge that we are universally seeing the most radical innovation. She is constantly reassessing and applying.
• There is no limit to the range of professional activities we can explore.
A past mentor described her work as concerned with "developing a vision of what successful change may look like and supporting others on a journey towards it."