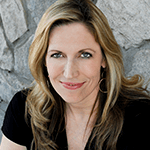 Laurie Kilmartin: Stand Up Comedian and Comedy Writer Breaking the Entertainment Industry's Ageist Glass Ceiling
Comedian/Writer
Twitter: @Anylaurie16
Website: Kilmartin.com
---
Bio: Staff Writer, Conan O'Brien's CONAN show. Has been a writer for many other talk shows including The Late Late Show. She has performed on Jimmy Kimmel, Last Comic Standing (Top 10 finalist), Comedy Central and more. One of four authors of the NY Times bestseller Sh*tty Mom
Innovating in Field of Work:
Only female monologue writer for Conan.

Released CD Five Minutes to Myself consisting of material not permitted to use on air.

Top Ten finalist in season 7, NBC's Last Comic Standing

Pushes the envelope of the acceptable while being funny.
Impact:
Huffington Post 53 Favorite Female Comedians list, 2011

Five Minutes to Myself

one of the Top Ten Comedy CDs of 2009, Punchline Magazine.

Many, many TV appearance on virtually every known—or unknown—program that feature comedy work.

Followed by other comedians.
Role Model:
Confronting the 'invisible after 40' culture of Hollywood.

Dedicated single mother.

Always positive and encouraging; constructively critical and forthright.

Spotlights at least one other female comedian per podcast episode (see below)
Reinvention / Risk / Momentum:
Recently began a podcast with Jackie Kashian, examining the issues faced by female comedians overlooked by the industry.

Co-authored book "Sh*tty Mom: Parenting Guide for the Rest of Us.

Tours 'relentlessly' when most her age have retired from the industry
"She is biting when it comes to her topics but never sets a bad example for women by being catty or mean to other women in the business."