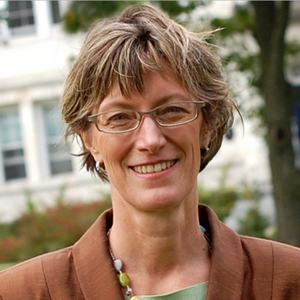 Allison Stanger: Educator and Advocate for American Principles 
Professor, Middlebury College
Twitter:
@akstanger
LinkedIn:
https://www.linkedin.com/in/allison-stanger-a020b78/ 
---
Bio:
Stanger is the Russell Leng Professor of International Politics and Economics at Middlebury College, Vermont. She is the author of One Nation Under Contract: The Outsourcing of American Power and the Future of Foreign Policy  and has testified before the Commission on Wartime Contracting, the Senate Budget Committee, and the Congressional Oversight Panel.
Disruption:
She engages in cutting edge research at the intersection of technology, the law and politics. Vocal advocate for a return to respectful and fact-based civil discourse in the U.S. She was injured and hospitalized in 2017 during student protests for engaging with a controversial speaker at Middlebury College despite the fact that she holds opposing views.
What's Next:
Joining forces with individuals and organizations to challenge extremism on both the right and the left and foster freedom of speech and inclusivity.
She has been invited to testify before Senate committees on the issue of freedom of expression. Dr. Stanger is writing two new books: Consumers Versus Citizens: How the Internet Revolution is Remaking Global Security and Democracy's Public Square and  Life, Liberty, and the Pursuit of Leaks: The Story of Whistleblowing in America.
I am most definitely not done yet when it comes to standing up for what I believe, especially since I now have an empty nest (last child just graduated from high school this year)! The best is still ahead of me.
Education:
B.S., Actuarial Science/Mathematics, Ball State University, Graduate Diploma, Economics, London School of Economics, A.M., Soviet Union Regional Studies, Harvard University, PhD, Political Science, Harvard University
Residence:
Washington, DC
Boards:
Member, Council on Foreign Relations