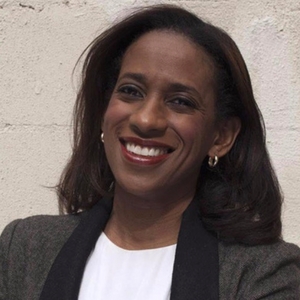 Binta Niambi Brown: Transforming Entertainment at the Nexus of Music, Art and Fashion 
Founder, B|G Mouth Records
Twitter:
@batnib
LinkedIn:
https://www.linkedin.com/in/binta-niambi-brown-07a303/

---
Bio:
Brown is a former corporate lawyer, founder of independent record label/music and entertainment company B|G Mouth Records, and manages upcoming artist Grace Weber. She was previously a Senior Fellow at the Mossavar-Rahmani Center for Business and Government at the Harvard Kennedy School of Government, where she studied and lectured on new business models and the intersection between business, human rights and a just society.
Disruption:
Successful professional in law, human rights advocacy, media, and government established a music & entertainment business with an innovative business model focused on maintaining artists' rights and funding creative platforms that maximize personal expression and community connection. Her mission oriented platform, B|G Mouth Records is vying to become the first statutory and certified B Corp.
Mentorship:
Fund Milwaukee after school music nonprofit, the Music Lab, which she founded with Grammy Award winning recording artist Grace Weber. Support sickle cell disease awareness, treatment, research and support, and additional music and art education initiatives, including Black Girls Code and Barnard College. Mentor to Barnard College/Columbia Law/Harvard grad students and graduates, young lawyers, entrepreneurs, artists and music industry professionals. She is also very fortunate to be mentored by many music industry professionals who are in their mid-late twenties.
What's Next:
Brown will soon release Grace Weber's highly anticipated first full length studio album, music videos and singles; and plans to sign additional artists and launch a streetwear line. She plans expansion to three business units: the record label, music video and production, and fashion, with her eyes on film, theatre and television down the road.
What lies ahead? Continuing to build a transformative entertainment company that values bringing people together, fostering community and elevating the potential of each individual.
Education:
Columbia University—School of International and Public Affairs, BA, Political Science, Barnard College, 1995. JD, Columbia Law School, 1998. Certificates from Yale and Harvard, Senior Research Fellow, Harvard Kennedy School 2013-2015
Residence:
New York/Milwaukee/LA/DC
Boards:
News Deeply, The African Technology Foundation, Technical Career Institutes, 2U, Barnard College/Columbia University, American Theatre Wing, New York City Parks Foundation, Human Rights First and others.