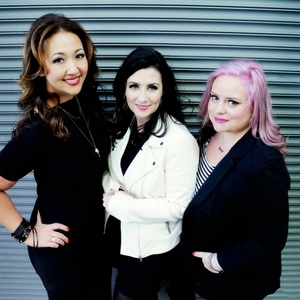 CLEVER: Scaling Real
Cat Lincoln, Founder & CEO
Kristy Sammis, Founder & Chief Innovation Officer
Stefania Pomponi, Founder, President & Chief Evangelist
Twitter:
@realclever
LinkedIn:
https://www.linkedin.com/company/12899248/
---
Bio:
Cat Lincoln, Kristy Sammis and Stefania Pomponi are founders of CLEVER, an award-winning, multimillion-dollar influencer marketing agency. Founded in 2009, they've delivered more influencer programs for the world's best companies than any other agency, authored Influencer Marketing for Dummies and are best known for their work on the Make-A-Wish #Batkid program.
Disruption:
CLEVER challenges the advertising industry with the idea that the future of advertising isn't advertising, it's real people telling brand stories. They match brands with highly-targeted influencers with a focus on authentic and brand-safe influencer marketing programs, representing celebrities, microinfluencers, and friend-to-friend influencers to drive results without relying on risky programmatic ads.
Mentorship:
CLEVER's mission is to empower women through the creation of a 100% virtual workforce, practicing radical transparency and fostering a culture of trust and immediate feedback. Parental leave is a priority. CLEVER provides a wage replacement program for mothers (and fathers) to care for their newborns.
What's Next:
CLEVER's newly launched influencer marketing platform, Gen4 DASH, utilizes advanced tech that empowers brands to activate tens to thousands of influencers in a single or multi-flight program. With a proprietary platform technology and state-of-the-art social listening tools, they aim to change the game—again while never losing sight of the human element.
We have rebelled against just about every aspect of traditional entrepreneurship and corporate culture. It was risky—it is still risky—but we're proudly building our company on our own terms. When you launch a company at 40, there is an element of fearlessness that goes with it. We're not afraid to fail because we've failed at many things and have learned to be "anti-fragile." Instead, we ask what's possible and go for it!
Education:
Bates College, The University of Connecticut, Loyola Marymount University
Residence:
San Francisco Bay Area
Boards:
Brain Trust + Partners, HipLatina