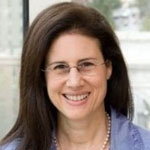 Carol Fishman Cohen: The "40 Year-old Intern" Poster Professional
Co-founder of iRelaunch; a company connecting professionals returning to work after a career break with employers interested in hiring from this talent pool; Globally recognized expert on career-reentry strategy; Author
LinkedIn: http://www.linkedin.com/in/carolfishmancohen
Twitter: @iRelaunch
---
Bio:
Carol Fishman Cohen is a mother of four who took a career break when her employer, Drexel Burnham Lambert, collapsed while she was on maternity leave with her first child. Eleven years later, she returned to work at Bain Capital. After a year at Bain, she left and secured a contract to co-author career reentry strategy book Back on the Career Track. She subsequently co-founded iRelaunch to help other return-to-work professionals get back into their careers. She currently co-manages iRelaunch and speaks globally on career reentry.
Innovating in Field of Work:
• iRelaunch uses programming – conferences, webinars, and customized career reentry programs – to connect professionals returning to work after a hiatus with employers.
• iRelaunch's signature program, the iRelaunch Return to Work Conference, is the only large scale gathering of high caliber returning professionals and the employers interested in recruiting them. To date, over 4,000 people have attended 17 iRelaunch Return to Work Conferences held since 2008 in major U.S. cities and in London.
• iRelaunch has also innovated on the university alumni programming side by providing universities with "turnkey" half day and full day career reentry programs.
• Cohen's 2012 HBR article "The 40 Year Old Intern" was the first to recognize the use of of returning professional internships across sectors.
• iRelaunch created and maintains the iRelaunch Comprehensive List of Career Reentry Programs Worldwide, which tracks career-reentry programs at employers, universities, government agencies and foundations.
• iRelaunch has documented over 200 return to work success stories on the iRelaunch.com website.
Impact:
• Back on the Career Track is referred to as the "Bible of Career Reentry".
• Cohen's article "The 40 Year Old Intern" was recognized as an "HBR Article That Changed the Way I Think" and was the subject of a TODAY Show segment.
• Cohen's career reentry experience is documented in a Harvard Business School case study.
• Cohen has engaged with hundreds of hiring managers to understand their biases and the risk they associate with hiring people who are returning from career break.
Role Model:
Cohen shares her experiences as a mother and a former return to work professional with professionals on career break looking to resume careers and young professionals anticipating career breaks and reentry.
Reinvention / Risk / Momentum:
Cohen recently returned from her third speaking tour in Asia since 2008, and is currently working to bring her career reentry strategies to Japan and Korea. She has also been invited by the U.S. Embassies in Japan and Korea to discuss strategies to benefit the return to work economic agendas in the two countries.
"Carol Fishman Cohen's real calling is in helping people relaunch careers."