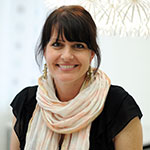 Erin Newkirk: Creating Products that Facilitate Stronger Relationships
Founder/General Manager, Red Stamp, Erin Newkirk.com
Linked In: www.linkedin.com/in/erinnewkirk/
Twitter: @erinnewkirk
---
Bio:
Erin Newkirk is the founder and general manager of Red Stamp, a Digital and Paper Correspondence company. Red Stamp was founded in 2005 to make relationships stronger, one personalized post at a time. Previously, Erin was in brand management at General Mills, and is proud of her role as wife, mother and loyal friend.
Innovating in Field of Work:
Digital and paper greetings are a catalyst to make relationships stronger. At Red Stamp, they believe happy and healthy relationships are key to a happy and healthy life. Started in 2005, RedStampCards.com was born to help people send "Fashionable Cards, Fashionably On-Time." It was a calendar / reminder service mixed with e-commerce, high-end occasion cards. A twist was that for an additional fee, Red Stamp would hand-write and send cards on behalf of clients. Over the years, Red Stamp Cards morphed into Red Stamp, and started selling more than greeting cards: desk items, personalized stationery. They moved into a 6,000 sq ft warehouse and designed own line of cards. And then continued to re-invent the company's products by then moving into the mobile space and designing an iOS app.
Impact:
Over 8 years later and 1.5+ million users strong, Red Stamp is best known for its award-winning, top 1% lifestyle app, with over 1,000 designs that can be personalized with photos and text and then shared from your mobile device and/or desktop computer via MMS, Twitter, email, Instagram, Facebook, and USPS.
Erin was also a finalist in Martha Stewart's American Made Awards, named a "Tech Rockstar" as selected by the MSP Business Journal, and Red Stamp made the Entrepreneur Magazine (2013) 100 Brilliant Companies. Red Stamp has also been featured in dozens of media outlets such as Oprah Magazine and the Today Show.
Role Model:
Erin is an active speaker and advisor to women entrepreneurs and is a member of key women in business/technology groups in Minneapolis and New York City. A WIM mentor, Erin was also selected to judge Google for Entrepreneurs' start-up competition, and is an advisor for start-up Kidizen.
Reinvention / Risk / Momentum:
Since Red Stamp was acquired last August, there has been a ton of opportunity and momentum to reach out and promote the full cycle of company creation through exit. Disruption has been a constant theme in the creation and building of Red Stamp. Founded in 2005 before Facebook, Twitter, and smartphones, Red Stamp was about paper greeting cards sold over the world wide web. Through the years, Red Stamp's mission of Making Relationships Stronger hasn't wavered, which has resulted in multiple iterations in order to be where customers need them.
"Red Stamp is the Modern Day Social Secretary."