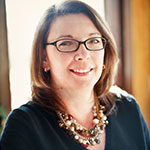 Joanne Bamberger: Amplifying the Political Voice of Online Women
Founder/ Editor-in-chief of The Broad Side, online women's commentary magazine; Founder/Owner of PunditMom, political blog about personal and political aspects of modern motherhood; Attorney and former Deputy Director of Public Affairs at the U.S. Securities and Exchange Commission; Author
Linked In: https://www.linkedin.com/in/punditmom
Twitter: @jlcbamberger
---
Bio:
Joanne Bamberger is a political/ media expert and one of the first internet voices to discuss the influence of women and mothers in the world of politics and social activism. She is a former attorney, and has won multiple media awards from Working Mother Magazine.
Innovating in Field of Work:
Bamberger's book, Mothers of Intention: How Women and Social Media are Revolutionizing Politics in America, is the first book that describes the rise of the motherhood political movement. She reveals how women, the majority of online users, use social media as a tool in creating a stronger female voice in American politics. Her book is an Amazon.com bestseller. In 2013, Joanne was named one of Campaigns & Elections Magazine's Advocacy Innovators of the year for her research and writing on the political influence of women's usage of social media tools.
Impact:
• Joanne has won multiple media awards including Best of the Web Award from Working Mother Magazine (2012), Most Powerful Women in Social Media from Working Mother Magazine (2011), 50 Best Leadership Blogs for Women (2011), and 2010 Must-Read Political Blogs by Women.
• Her political commentary has been featured on MSNBC, CNN, FOX News, ABC's Good Morning America, XM Radio POTUS, USA Today, SF Chronicle and BBC Radio.
Role Model:
• Bamberger engages a wide audience of women and creates thought-provoking and empowering discussions on women's use of social media and its influence in political America.
• The preface to her book captures her commitment to cultivating other women's voices: "Joanne Bamberger has a habit of grabbing the spotlight and immediately turning it toward other women. … Joanne's own stage keeps getting bigger, but will never be lonely. If I were a cartoonist, I would draw her as a cheerful woman in funky glasses and multiple arms waving to women in the audience and shouting, "You! Yes, you! Come stand next to me. And you! C'mon. Bring those three women behind you, too. Plenty of room."
• Charter member of the Washington, D.C. Chapter of the Political Women's Institute.
Reinvention / Risk / Momentum:
After spending 15 years in attorney, including a stint as a Deputy Director of Public Affairs at the SEC, Bamberger took the risk of follow her dream of using her political and social media expertise to shed light on how women and mothers in social media play an important role in political and social activism.
"Having an opinion never goes out of style!"