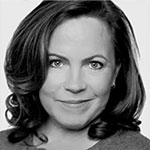 Kat Gordon: Making her Mark for Gender Equality
Marketing to Women Expert, Founder and Creative Director at Maternal Instinct, Founder of The 3% Conference
http://katgordon.com
LinkedIn: www.linkedin.com/in/katgordon
Twitter: @katgordon
---
Bio:
Kat Gordon has over 20 years of marketing experience and is the Founder and Creative Director of Maternal Instinct, a marketing agency that specializes in marketing to women. She is also the Founder of the 3% Conference and is passionate about gender equality in the workplace.
Innovating in Field of Work:
Gordon was shocked to learn that only 3% of creative directors in advertising agencies were women and had less of an impact on media and advertising targeting women than men had. She created the 3% Conference that unites advertising and media professionals to take action to change this gender imbalance and to support healthier media messages. She is developing a "brother" conference that is overtly targeted to men on the client side. She believes that change on the agency side is also dependent on raising awareness on the client side.
Impact:
• Gordon has won several awards for her marketing expertise including the "Marketers that Matter" award from Wall Street Journal. The Sage Group (2013), ADDY Best of Show and ADDY Campaign 4/c award for her ads for Target, First Place Caple Award from Microsoft Visual Basic, Consumer Category Bronze Pioneer Award from Microsoft Word, and Top 10 Women to Watch in 2013 by Ad Age.
• She received recognition for "Conference of the Year" award from Women Entrepreneurs Rock the World (2013), and a Proclamation from the Commission on the Status of Women (2012).
Role Model:
Gordon's 3% Conference is a 2 day, 400+ person event, with multi-city shows throughout the year. She keeps a blog and has created a student scholarship fund.
Reinvention / Risk / Momentum:
After years in the marketing field and seeing the apparent sexism and gender inequality in media and advertising, she wondered why nothing was being done. She realized that she was that someone that needed to get the ball rolling and thus, created the 3% Conference.
She founded her company while raising her sons with the notion that doing what you love and making a positive impact will change the world for us all."