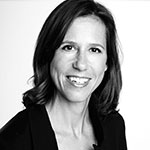 Sally Bergesen: Beyond Retail, Creating a Collaborative Running Community
CEO, Oiselle, Athletic Apparel
http://sallybergesen.tumblr.com/
Twitter: @oiselle_sally
---
Bio:
Founder and CEO of Oiselle
Innovating in field of work:
• In the large world of athletic apparel, Sally has created a company with a fierce drive and passion for the woman athlete. The design, quality and manufacturing of her products comes from her sincere desire to improve the running experience for women of all ages and athletic abilities.
• Sally is helping to redefine professional running by using social media as the platform for promoting creativity in running, recreationally or professionally. She disrupts with a boots-on-the-ground methods rather than trying to compete with the "big guys" in advertising.
• Her bold choices in signing elite runners has proven to be smart and inspiring. Last year she stole Kara Goucher away from Nike with the offer of equity and the ability to be more outspoken.
• The actual product – women's running clothes that fit, flatter, and perform with both off-the-couch 5K'er and elite runners is a first.
Impact:
Oiselle doesn't just sell running clothes –they've created an amazing community of supportive, strong and competitive women. Sally has also led the charge in furthering athletes' rights and to bring about change in the professional running world. Last year the company completed its second round of funding and is on track to reach revenues of $10 million within the next year.
Role Model:
• Sally has created a company that is a family, bringing women into her world and inspiring them to do great things. A proof point is that 187 of the 250 Oiselle Ambassadors responded when she sent out an email about the opportunity to nominate Sally for 40 Women To Watch Over 40.
• She takes a stand on elite runner compensation, contracts for pro women runners, doping, and how track & field is governed.
• Oiselle's partnership with the charity, Every Mother Counts, demonstrates the commitment to go above and beyond typical market forces to improve lives.
• Her unending support and inclusion of all women is like nothing I've experienced before. I have met and connected with women from all over the country because of the community Sally has created.
Reinvention / Momentum:
• Sally didn't start Oiselle early on in her career, but she didn't let that stop her from going after her dream. After leaving her brand consulting job and having two kids, Sally was ready to race again. A quick trip to the running store to buy shorts ended in disappointment but led to an idea for a new kind of company.
• She is constantly evolving that dream – from collaborating with the retailer Title Nine, to supporting local non-pro athletes through ambassador teams. Oiselle has become a new face of the sport and a voice for those involved in it.
"Even when Oiselle was small Sally had a huge vision for what it would become: a force within the running community and within the athletic apparel industry."