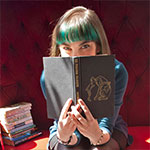 Stacy Ratner: Creating a Literary Wonka Wonderworld
Founder, Open Books
Twitter: @stacyjratner
---
Bio:
A book lover and veteran of for-profit startups like Sittercity.com, Chicagoan Stacy Ratner founded social venture Open Books in 2006, envisioning a "literacy community center." It was her first nonprofit. She is a reader, writer, social entrepreneur, and also founder of the Chicago Literacy Alliance.
Innovating in field of work:
• Open Books funds literacy through creative capitalization of books. More than 60% of Open Books' $1.2 million annual budget comes from earned income including book sales online and in 2 retail locations. Not bad, considering the naysayers who chided her for embarking on a "dinosaur enterprise" in an age of e-readers.
• Instructional programs at Open Books include Open Books Buddies (volunteer-based 1-on-1 reading sessions); Adventures in Creative Writing field trips (writing workshops for 3rd-12th graders), ReadThenWrite (in which teens read and discuss books from a particular genre and write their own stories which Open Books then publishes), and Publishing Academy (a novel-writing/publishing summer camp for teens).
• Open Books' book grant programs create libraries in schools and nonprofit centers, support literacy events in the community, and give books to students to keep and share with their families.
Impact:
• Started in 2006, Open Books now provides innovative and inspirational reading and writing programs for more than 5,000 Chicago students each year at 60 to 80 Chicago Public Schools
• Recipient of the Social Enterprise Alliance's Innovation award in 2010 and awarded the Emerging Leader Fellowship from the Chicago Community Trust and recognized by the White House
Role Model:
• During her early for-profit startup days (helped raise $30 million in support of 4 ventures), Stacy was often the only woman in VC meetings and one of the very few on staff. She vowed to have a different environment at her eventual "company of heart"
• She now oversees/mentors a full-time staff of 15 people, 11 of whom are younger women
• She works with Chicago Women in Philanthropy and the Kellogg Executive Women's Network on projects to advance rising female professional and advises women-run tech-based startups
• Just marked her 10th year of completing the National Novel Writing Month, which challenges participants to write 50,000 words during the month of November.
Reinvention / Momentum:
In 2009, ready to expand, Stacy co-founded the Chicago Literacy Alliance (CLA) to bring all of Chicago's literacy groups together to explore approaches to the cause. It now includes 80+ organizations and serves hundreds of thousands of learners each year, working with every single school in the Chicago school district. The model is a true disruption of how literacy has been approached in the city to date and is in many ways the culmination of all Stacy's experience in startups, collaboration, and entrepreneurship.
"If the Open Books story has a moral at this point in its development, it's that the company your heart tells you to start is the right one to start, even if the financial model is not what you think it should be; even if the market isn't lined up to receive it."