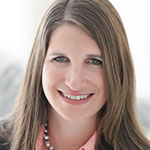 Allison O'Kelly: Bridging Opportunities for Mothers Seeking Work-Life Satisfaction
Founder and CEO at Mom Corps
Linked In: https://www.linkedin.com/in/allisonokelly
Twitter: @allisonokelly, @momcorps
---
Bio:
Founder and CEO at Mom Corps. Allison founded Mom Corps in 2005 as a working mother who wanted to help other working moms find work-life satisfaction. She began her career as a CPA at KPMG and was in a fast-track management program at Toys "R" Us where she ran an $11M Toys "R" Us Store and helped launch the original Babiesrus.com website.
Innovating in Field of Work:
• Mom Corps specializes in professional job opportunities that offer mothers better work-life satisfaction and flexibility while providing clients high caliber talent that is beneficial to their bottom line. Mom Corps is at the forefront of the Flexibility Movement.
• Mom Corps is a Certified WBENC Women's Business Enterprise and SBA Certified Woman Owned Small Business.
• Mom Corps serves clients of all sizes across the United States to help them hire hard to find, experienced professional talent.
Impact:
• Mom Corps has won awards from Ernst & Young: EY Entrepreneurial Winning Women Class of 2012, Working Mother: Best of the Net, Inc. 500 and more.
• Mom Corps has a talent network of over 200,000 candidates.
Role Model:
• One of Mom Corps core values is "Responsible Flexibility". All employees, including Allison, work from home and have the ability to flex their schedules as needed.
• Allison works to make sure Mom Corps candidates trust that she and her team will listen and place them according to their needs. Mom Corps works from understanding the struggle of trying to have both a career and a family.
• Although she is running Mom Corps, she still works out of her home office which gives her more time to raise her 3 boys.
Reinvention / Risk / Momentum:
• Allison used her personal and professional experiences as the inspiration to create a movement to expand career opportunities for individuals raising families.
• In 2014, Allison launched Mom Corps YOU, an online coaching and learning portal for professionals seeking flexible work.
"Allison is constantly re-thinking and refreshing the business so that Mom Corps
can maintain its values and profit, while still providing the important social impact that it has on working mothers.