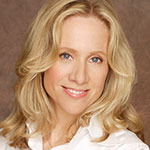 Betsy Beers: Making TV Look Like the Real World
Producer, Shondaland
Twitter: @beersbetsy
---
Bio:
Betsy Beers is an American television and film producer whose credits include the Grey's Anatomy, Scandal, Private Practice, and How to Get Away with Murder and the upcoming new midseason drama The Catch, starring Emmy-nominated Mireille Enos and Peter Krause.
Innovating in Field of Work:
From her nominator Shonda Rhimes: "Betsy is one half of Shondaland. People like to think it is all me But as Betsy likes to put it: I'm the Shonda and she is the Land. She's one half of the team.  And while she may not be the visible half, she's a very powerful half. In this industry of young white men, Betsy is a foul-mouthed, take no prisoners, badass producer in her mid-50s — and in a world in which that should mean she's an outsider, she has thrived."
Impact:
• For her work on Grey's Anatomy, Betsy and her fellow producers were awarded the Producer of the Year Award, the 2007 Golden Globe Award for Best Television Series Drama, and received the 2006 and 2007 Emmy nominations for Outstanding Drama Series. Betsy has been nominated three times by the Producers Guild of America for their Television Producer of the Year Award.
• In 2014, Scandal was awarded the American Film Institute's Television Program of the Year Award as well as a Peabody Award.
• Viola Davis made Emmy history this year, winning the Emmy for Lead Actress in a Drama Series for her role on "How to Get Away with Murder."
Role Model:
• What's amazing about Betsy is that while she is a role model to younger women, she has gone out of her way to be a role model for more mature women as well!  I've watched her, quietly and without fanfare, take it upon herself to offer her mentorship, her time, and her energy to several women who find themselves in the process of big career changes.
• She's doing this with former high level executives, actresses looking to make the leap behind the camera, powerful philanthropists — all brilliant women attempting to make the scary leap from a field in which they excelled into a field very few have mastered: the role of non-writing producer in the television industry.
• She also takes the time to seek out women of color as assistants, teaching, training and promoting them in our company and then sending them out into the industry to thrive.
Reinvention / Risk / Momentum:
• Betsy never rests.  We're constantly in discussions about how to move Shondaland forward. But she's also constantly in discussions about how to move BETSY forward.  How to change, how to move in new directions, how to refocus and how to push.
"One of her challenges is to push herself to seek a public profile — not for ego, but because she feels that the more the industry understands what she does, the more opportunities there will be for others to do it."