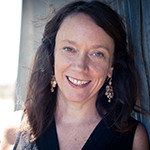 Christine Garde: African Solutions to African Problems
Founder & CEO, CouldYou?
LinkedIn: https://www.linkedin.com/pub/christine-garde/8/284/b36
---
Bio:
Founder and CEO of CouldYou?, a 501c3 non-profit dedicated to supporting African solutions to African problems focused on ending poverty in Africa. www.couldyou.org
Innovating in Field of Work:
• Catalyzing change by connecting people of influence in the West with African businesses and charities.
• CouldYou? provides volunteers with an individually tailored local experience designed to utilize their specific skills to impact social change partnering with African leaders.
• Turning alumni into lifelong ambassadors by providing them coaching and connections after the trip so as to integrate CouldYou?'s mission into their personal and professional life on an ongoing basis.
• CouldYou? approaches development uniquely, putting partnership with Africans at the core — with them leading — creating African solutions to African problems.
Impact:
• Christine has demonstrated that eight days change your life and the world. One look at the website's CY in action section demonstrates its transformational power with stories of participants who translate their experience in Africa into action in their field of interest – from incorporating it into their own business to starting their own organization to raising money
• A few examples: One alum offered a 5% pay increase to employees that volunteered a minimum of 5 hours a month. Another started Metanoia Global which helps social entrepreneurs, start, scale and sustain their businesses for profit and purpose.
Role Model:
• Christine is a positive role model to all women. At the beginning of her career, she started a gang diversion program on the border of Tijuana and San Ysidro to provide outreach for at-risk youth and gang members, mentoring girls in the program and college leaders who volunteered with her.
• Through her work in Africa she mentors and teaches women about purpose and impact. No matter the background of the person she speaks with—a senior business leader, teenage gang member, government bureaucrat or city dump dweller—she crosses socioeconomic boundaries to build trust and connect people who have nothing in common.
Reinvention / Risk / Momentum:
• Christine is primed to take CouldYou? from an immersion experience that inspires action to an initiative targeting the transformation of Mozambique. The focus is on education, addressing the deficit of skilled laborers in Mozambique given the recent discoveries of vast reserves of coal, natural gas and oil.
• Christine is working with former President Chissano, and the Chissano Foundation on an ambitious education reform project that will partner with the world's best educators and great thinkers to share their knowledge and expertise of education innovation. Christine has dedicated the past three years to establish an incredible team of partners to implement this initiative.
• Christine is also working to connect international oil and business investors and agricultural leaders in food security to visionary leadership in Mozambique. Throughout the continent she also connects people to the Archbishop Desmond Tutu Fellows, a network of 200 vetted leaders in every sector. These remarkable men and women of integrity hold influential positions in some of the highest levels of business, government and civil society.
"True vocation joins self and service; it comes from the place where your deep gladness meets the world's deep need."— Friedrich Buechner