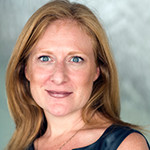 Christine Osekoski: Bringing Business Publishing Into the Digital Age
EVP Marketing, Katz Media Group
LinkedIn: https://www.linkedin.com/pub/christine-osekoski/22/367/ab9
Twitter: @cosekoski
---
Bio:
Christine has spent nearly a decade leading the advertising sales, promotions, and marketing of Fast Company. She's responsible for creating multi-platform partnerships between the brand and its advertisers.
Innovating in Field of Work:
• When Christine started at Fast Company, it was just the magazine — not the iPad edition, not the website, not the video series. She had to strategically position Fast Company on the market within the "business magazine" category because that hadn't been done before. She had to blaze a trail to show Fast Company was the most innovative, creative, progressive business media brand. Then, she had to work with the editorial team to bring Fast Company into the digital age; from there, they created events that built on the print and original web content. Today, the majority of advertising revenue comes from advertisers who buy the full brand experience that Christine oversees with editor Bob Safian.
Impact:
• Fast Company was named Magazine of the Year in 2014! Since she became Publisher, Fast Company's revenue has quadrupled and its media franchise has expanded to five web sites, iPad, Flipboard, mobile and experiential platforms/live events.
Role Model:
• Christine was a driving force behind advertising partnerships to support the "Extraordinary League of Women" issue of Fast Company and has brought a feminist influence to the magazine. She has spearheaded events such as the "Women at the Forefront" panel featuring Eileen Fisher, curating women across industries for a night of networking and dialogue.
Reinvention / Risk / Momentum:
• Christine is disrupting herself by finding more time to give back to the causes she loves the most: Girls' education (she's a lifetime Girl Scout!) and cheetah conservation. She joined the Board of She's the First and played a key role in the Mentor Breakfast fundraiser last year, driving the call to action.
"Christine works with an executive coach and is very introspecitve — she is giving great thought to what she wants her legacy to be, pushing her personal boundaries and thinking about what life beyond the masthead could mean."