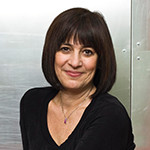 Diane Hessan: Scaling Leadership
CEO, Startup Institute
LinkedIn: https://www.linkedin.com/pub/diane-hessan/7/845/211
Twitter: @DianeHessan
---
Bio:
CEO of Startup Institute, a high-growth company in the next-generation education space. She is also Founder & Chairman of Communispace, which sold to Omnicom in 2011.
Innovating in Field of Work:
• Diane founded Communispace in 2000, which was a major disruptor in the market research space. She pioneered an important new category in consumer research — the use of online communities to help major brands stay continuously connected to their consumers.
• In her new company, Startup Institute, she is leading the charge to disrupt post-graduate education, helping students transform their careers and find jobs they love via an 8-week program that teaches the skills, mindset & networking to get a position in a high-growth company. In return, companies find the talent that can take them to a new level.
Impact:
• Startup Institute has nearly 1000 alumni, NPS scores in the 80s, and 92% hire rate for its graduates. It is now in Boston, NYC, Chicago, London & Berlin, and the company is raising additional venture money to scale further.
Role Model:
• If you asked the average Bostonian to name one woman who is the model of a passionate and generous mentor to other women, Diane's name would probably be at the top of the list.
• She has literally mentored thousands of women: hiring and developing employees at all levels, speaking at dozens of colleges and universities, speaking on panels and at conferences, investing in women-led businesses, contributing to causes that support advancement of women, and generally doing everything possible to help women accomplish more than they ever thought possible.
• In both of Diane's companies, she has hired and promoted women to very senior levels, and has had 50% female board members.
• Two of Diane's mentees are about to launch a national network for women who work in startups, and she has helped over half a dozen women get placed on corporate boards.
Reinvention Over 40 / Momentum:
• Not satisfied with the status quo, Diane is always looking for creative ways to start and scale new organizations. Having founded and sold a company successfully, she could have easily retired. She is passionate about education and helping young people find meaningful careers. This led her to take over as CEO of another rapidly scaling startup – The Startup Institute.
• Diane continually looks for new adventures. Even Fortune Magazine recognized it recently, featuring an interview with her aptly titled. How a CEO Found Her Second Act — Former CEO of Communispace, Diane Hessan, explains her zigzag path to the Startup Institute.
"Usually when you hear scale you think about finances and margins. I think the key is to figure out how to scale leadership."