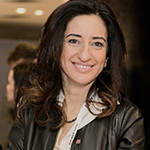 Didem Gürcüoğlu Tekay: Developing Diversity in Turkey
Managing Partner, Management Centre Turkey (MCT)
LinkedIn: https://www.linkedin.com/pub/didem-gurcuoglu-tekay/2/277/172
Twitter: @DidemTekay
---
Bio:
Managing Partner, Management Centre Türkiye (MCT), a leading Management Consulting Company for Organizational Change, Leadership and Management Development in Istanbul, Turkey
Innovating in Field of Work:
• Tekay and MCT repeatedly bring new voices and perspectives together from around the world, introducing the Turkish and Middle Eastern Business and HR community to what it means to lead and learn in organizational settings
• She showcases the work of famous US feminists keen to shift the world to a more relational way of working; she provokes people by presenting radically different views about whether modern business is a force for good or bad.
• As co-chair of one of the most important summits for Turkish professionals — the HR Summit she convenes diverse thinkers in a unique setup to encourage people to think differently about business complexity – she is the one who keeps the new and the emerging ideas top-of-mind. In 2015, she is bringing together economists, filmmakers, business leaders and thinkers, historians and others.
Impact:
• The fact that Tekay arrived at this leadership position is in itself a huge step for women in Turkey. Her visible presence as a senior executive is a powerful symbol of what can be achieved within her country.
Role Model:
• She is a role model for all women in Turkey. Tekay grew up in southeast Turkey, a volatile region in terms of ethnic clashes and terrorism where education opportunities and strong female voices are limited. While girls are mostly not allowed to continue their education, Tekay got her masters degree 2 years ago from Middlesex University, UK and since has mentored young women back in Turkey on how they can stand as a working woman.
• Tekay also participates in mentoring programs for women. Moreover, she is a role model for men; presenting a model of feminine and masculine balance in leadership. She recently gave a speech on this balanced presence in the Turkish War Academies, which obviously has a masculine dominated culture.
Reinvention / Risk / Momentum:
• Didem is always busy inquiring and developing herself. She sees each and every situation as an opportunity to learn and is open to feedback.
• One of her core strengths is having insight on the human experience, which derives from her willingness to engage in self-reflection. Despite her own fears, uncertainties and vulnerabilities, she forges ahead.
• She is writing a book with Ashridge Research Associates — telling her personal story and providing concrete examples of combining the feminine and masculine in leadership.
"Progressing is a key word for me. If I can't progress by creating new paths for myself and those around me, I feel stifled. I use self-reflection, journaling and experimentation to overcome my learning anxiety. Learning, developing new capabilities is the core of my existence."