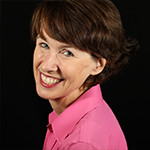 Jane Condon: Laughing, Thinking and Cleaning Up Comedy
Comedian
LinkedIn: https://www.linkedin.com/pub/jane-condon/5/b52/143
Twitter: @janecondon
Website: http://janecondon.com/
---
Bio:
Jane Condon is a wife and mom who balances her life by getting lots of great material for her stand-up routines from her family, as well as her hometown of Greenwich, Connecticut.  Condon performs at functions ranging from large charity fundraisers to national television.  The WSJ calls Condon "a rarity" whose material "never needs to be laundered."
Innovating in Field of Work:
• A comedian. A clean comedian. Over 40 and a woman —"There aren't very many of us. I make people laugh. I also try to make them think. George Carlin once said, 'The great comedians make people laugh and think.' "– Jane Condon
• After one New Year's Eve show, President Clinton told Jane, "You're really funny, Janie." Senator Barbara Mikulski asked Jane's husband, "Are you married to this woman?" When he nodded, she said, "May the force be with you."
Impact:
• Carole Schwartz, a social worker from Brookline, Mass. whose son had lung cancer came up to Jane after a show. She said, "Such a great show. You are SO funny. You made us forget for a half-hour." And it was the first time Jane realized, "This is why I do it."
Role Model:
• Jane gave the commencement speech at Wellesley College in 2011. She was both a grad and a scholarship student. Her impactful advice to make them laugh and think:
"Ask for money! Ask for what you want!" (I asked my husband to marry me 🙂 )
Give back (money or kindness)
Don't give up (one of my favorite proverbs from living in Japan for five years is: nanakarobi, yaoki, be a 7 times fall down, 8 times get up kind of person).
And love. (Once I was asked what I wanted on my tombstone and I said, "Bring joy." Hillary said, "I done my damn best." And Estelle Ramey, professor of physiology and biophysics at Georgetown said, "I have loved and been loved. And all the rest is background music."
• In 2012, Jane gave the commencement speech at the University of New Haven (a commuter school where many students are the first in their family to go to college.) To her this was a big honor. She always looks for ways to help younger women in comedy. She put them in shows as part of the Ladies of Laughter theatre tour.)
• She is a strong supporter of women in politics: "If you have a uterus, I will give you money."
Reinvention / Risk / Momentum:
• Jane started out as a journalist (reporter for FORTUNE and LIFE magazines).
• She wrote a book about Japanese women (sold out in Japan) and when she would lecture about Japan, people would laugh. A new career was born. Although a late bloomer, she has been a comedian for more than 20 years.
"Al Franken once said, 'I think you will be a national treasure in your 80's.'
I'm hoping it will come a bit sooner :)"