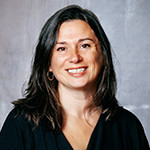 Jennifer Jako: Giving AIDS a Lifeline
Principal, fix studio, Creative Director, AIDS activist
LinkedIn: https://www.linkedin.com/pub/jennifer-jako/a/ab6/531
Twitter: @jenjako
---
Bio:
AIDS activist, filmmaker, photographer, lecturer and designer. Co-founder and Principal, Fix Studio, a design group that has designed the identities, furniture and the interiors of restaurants in the Pacific NW Jennifer, who is HIV-positive, also spends countless volunteer hours acting as an AIDS advocate and reproductive health educator.
Innovating in Field of Work:
• Fix Studio works with some of the most loved restaurants in the Pacific NW, including Lovejoy Bakers, Daily Cafe, Stacks Burgers and Flight Trampoline, a growing national chain. They bring a distinct, multidisciplinary approach to the design of objects and environment, telling stories with spaces and objects.
• Jennifer co-founded ShowPDX, a biennial regional furniture design exhibit, featuring innovative and local furniture designers in the Pacific NW region.
• Her work as an AIDS activist has been a lifetime passion. Following her infection with HIV at age 18, she began educating in the hopes of preventing HIV infection in young people. Jako has lectured on the subjects of wellness, reproductive health, survival and understanding to audiences of all ages.
Impact:
• In the late 90's, Jennifer co-directed and produced Blood Lines, a documentary which The New York Times called "a pointed, moving documentary… an eloquent plea for understanding."
• This personal story of living with HIV broadcast on MTV from 1999-2004 and MTV estimates the viewership of was 12 million a year. Over 180,000 kids called the associated toll-free number to get information about safer sex.
• She has spoken directly to over 200,000 people and her media outreach has touched over 50 million people.
Role Model:
• For 22 years, Jennifer Jako has been an AIDS activist, and a HIV/AIDS and Reproductive Health Speaker/Educator.
• Most recently she has been a leader and voice in the Greater Than AIDS movement alongside Alicia Keys.
• Her 20+ years of work as a reproductive health advocate informed and continues to inform millions of people worldwide about the urgency of the AIDS epidemic. In addition, she volunteers on the Board of Advisors of Cascade AIDS Project.
Reinvention / Risk / Momentum:
• Jennifer spent her youth protecting her two younger sisters from a severely abusive father.
• She has applied this bravery to every aspect of her life, whether that was facing her HIV-positive diagnosis with a strong jaw, harnessing her anger into producing a powerful documentary about living with HIV, choosing to marry and have a healthy HIV-negative child and running a thriving design business. All this while continuing advocate for AIDS around the world and now starting ShowPDX to celebrate local designers.
"She is hands-down the most inspiring woman I have met in my lifetime."