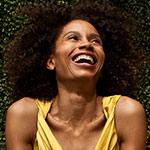 Kahshanna Evans: Creating conscious PR
Founder, Kissing Lions Public Relations
LinkedIn: https://www.linkedin.com/in/kahshannaevans
Twitter: @Kahshanna
---
Bio:
Founder of Kissing Lions Public Relations and PR for the Happiness Economy, author of Amani and active community Volunteer
Innovating in Field of Work:
• Kahshanna's company, Kissing Lions Public Relations, is a boutique publicity hub headquartered in NYC that supports niche and emerging brands. The company is amongst Pave's top 200 of 2014.
• Combines "conscious" publicity, narrative and intelligence 2.0. Most recently the firm celebrated its largest television broadcast placement ever, Built; a new design show on The Style Network and supports Mission based organizations TheFutureProject.org, CitizenSchools.org and SASFNYC.org
Impact:
• Her screenplay, Amani, the story of the resilience of the human spirit in the face of abuse of power by employed officials, was prompted by a citizen journalism entry on CNN's iReport. Director/Producer Bob Degus and Aneetha Rajan (known for her work with Michael Moore) gave Amani rave reviews after its first table read.
Role Model:
• Supporting humanitarian causes when possible and mentoring nurtures deeper meaning and makes business a pleasure.
• Kahshanna created an 8-week Citizen Schools program entitled 'What's Your Story' for the students of Bronx Writing Academy to support kids owning their own voice.
• Supported career development and visibility for performing artist/dancer Sonja Chung of Jennifer Mueller, The Works and incubated Entertainment Crush. These mentorships were driven by her observance of talented women who were trying to break the glass ceiling. Kahshanna has also supported Walk of Art for Kids, Amma's Kitchen, St. Francis Soup Kitchen and NoH8.
Reinvention / Risk / Momentum:
• Always learning, Kahshanna contributes to MeetMindful as a writer about conscious dating, life and love.
• Supports the co-working movement and the idea that space and place impact employee engagement. She has created The Kissing Lions Zen Den, renovated by The Style Network, as a creative space where colleagues and bright minds can congregate at and, hopefully, grow.
• The most recent event was Harlem Nomads, hosted by SpareChair in partnership with Brooklyn Space, Silicon Harlem, KLPR with a Q&A that included the founder of Power to Fly.
"I am disrupting by showing up for what I believe in and owning goals I value and treasure which include peace and work/life balance."