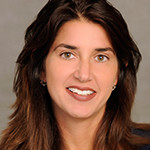 Laura Gentile: Leading Influencer for Women and Sports
ESPN / Vice President / espnW / Women in Sports
LinkedIn: www.linkedin.com/in/gentilelaura
---
Bio:
Founder and Vice President of espnW, ESPN's first dedicated business built to serve women who love sports. She is regularly recognized as a key influencer and leader as a woman in sports and is, without a doubt, an exceptional leader within the digital space.
Innovating in Field of Work:
• Laura leads a growing ESPN business unit, which has evolved from a blog launched in 2010 to the first dedicated business built to serve women who love sports. She has made major strides in growing the brand, and espnW is now the leading voice for women and sports.
• In 2014, Gentile oversaw the realignment of espnW's structure to more strongly focus its efforts on editorial strategy, drive multimedia business and create TV integration opportunities. As a result of these moves, espnW has expanded from its original blog form to a brand that has created unique content across ESPN's television, radio and digital platforms through its own original and diverse programming, including Nine for XI Shorts, In the Game with Robin Roberts and a three-part docuseries, espnW Presents: The Geno Auriemma Project, focused on one of the preeminent women's college basketball coaches in the country, Geno Auriemma. Also this year, espnW – in collaboration with ESPN Radio – launched the company's first-ever national radio show hosted by two women, Spain & Prim. In addition, Gentile directed a concerted effort by espnW to feature W voices across ESPN's shows and platforms. espnW writers like Kate Fagan, Julie Foudy, Jane McManus and Sarah Spain are all prominently showcased on programs like Around the Horn, First Take, Olberman, SportsCenter and more, as well as across ESPN The Magazine and ESPN Radio.
Impact:
• The last year saw espnW.com post its highest traffic to date. Usage of espnW.com more than doubled in 2014, up 108% calendar year-over-year, and peaking in April 2015 when espnW had its record month, hitting 8.1 million unique visitors on espnW.com.
• In addition, Gentile hosted the fifth annual espnW: Women + Sports Summit in October 2014, which was the biggest and most successful Summit to date from media attendance, marquee speakers and sponsorship. Maria Shriver, Amy Purdy, Billie Jean King, Mia Hamm and Abby Wambach have been featured speakers at the espnW Summit.
Role Model:
• Gentile received WICT's signature accolade for espnW's Global Sports Mentoring Program, an initiative founded by Hillary Rodham Clinton as Secretary of the U.S. Department of State, that pairs emerging female leaders from around the world with top American female executives for a four-week mentorship program to create sports leadership opportunities for girls and women in their home countries.
• espnW also joined forces with the Women's Sports Foundation (WSF) on Sports 4 Life, a national grant program to increase participation and retention of African-American and Hispanic girls in sports. Through grants and educational resources, the Women's Sports Foundation, espnW and its partners will positively impact the lives of thousands of girls, coaches and families across the U.S.
Reinvention / Risk / Momentum:
• Appointed to U.S. Department of State's Council to Empower Women and Girls through Sports, recently named to the Women's Sports Foundation Advisory Panel, and selected as one of 17 participants in the inaugural Women in Sports and Events (WISE) and Tuck Executive Education at Dartmouth's Executive Leadership Institute (a program for the advancement and retention of female executives in the sports industry) — her reach and innovation spread beyond ESPN.
"Gentile continues to innovate at a company where novel concepts are a daily occurrence."