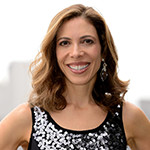 Linda Rottenberg: Creating Entrepreneurs with Impact
Co-Founder and CEO, Endeavor Global
LinkedIn: https://www.linkedin.com/in/lindarottenberg
Twitter: @lindarottenberg
Website: http://www.endeavor.org/
http://www.lindarottenberg.com
---
Bio:
Co-Founder and CEO, Endeavor, a global organization leading the High-Impact Entrepreneurship movement around the world.
Innovating in Field of Work:
• High-Impact Entrepreneurs—those with the biggest ideas and most scalable businesses—are widely recognized as key drivers of long-term economic growth, job creation, and innovation with potential to change their countries and the world.
• Many of these High-Impact Entrepreneurs, however, face various barriers in growing their business. Linda's company Endeavor provides the support system and resources necessary to overcome these challenges.
Impact:
• Endeavor sets the standard for selecting, mentoring, and accelerating entrepreneurs with potential for creating impact. In 18 years, Endeavor has screened and provided feedback to 45,000+ candidates and selected 1,000+ High-Impact Entrepreneurs from 650+ companies.
• These entrepreneurs have created over 500,000+ high-value jobs and generated $8 billion in revenue in 2014. Thomas Friedman hailed the Endeavor model as the "best anti- poverty program of all."
• Endeavor has offices in 22 countries and 50 cities around the world and plans to expand to 25 countries by the end of 2015. The World Economic Forum, the Clinton Global Initiative, Harvard as well as entrepreneurs including Michael Dell, Reid Hoffman, have recognized Endeavor for its innovative and results-driven approach. Linda was also named one of "America's Best Leaders" by U.S. News and one of TIME's 100 "Innovators for the 21st century."
Role Model:
• As the mother of ten-year old identical twin girls, Linda provides a strong example of a successful businesswoman who also prioritizes her family.
• While focused on high-growth business innovators regardless of industry or background, Endeavor also makes an effort to support female founders. 20% of the Endeavor portfolio is comprised of female founders who are often in markets where leadership opportunities for women are limited. For example, Endeavor recently selected its first female entrepreneur from Saudi Arabia to join its portfolio.
Reinvention / Risk / Momentum:
• Linda disrupts herself by constantly challenging herself to produce greater work than the year before. In 2014 she published her first book, "Crazy is a Compliment," and went on book tour inspiring big dreamers, lifestyle entrepreneurs, and managers in Fortune 500 companies alike to start audacious businesses/projects of their own.
• She did this while remaining the CEO of Endeavor, traveling the world on behalf of her non-profit organization, and sitting on the board of a public company. In 2015 she has plans to launch a $100MM impact fund – the second Endeavor Catalyst fund co-investing in Endeavor Entrepreneurs around the world – while continuing to publish articles demonstrating her thought-leadership in global entrepreneurship.
"I can't think of a better role model for ambitious women than Linda Rottenberg."