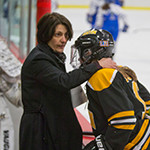 Margaret "Digit" Murphy: Playing it Forward, a Leader for Women in Sports
Co-founder, Play It Forward Sport Foundation
LinkedIn: https://www.linkedin.com/in/digitmurphy
---
Bio:
Co-founder, Play it Forward Sport Foundation, an organization created to push forward gender equity in women's sports at all levels, by empowering female athletes and building leaders through sports. As the Head Coach of the Boston Blades in the Canadian Women's Hockey League, she became the first coach to bring the only US club two Clarkson Cup championship titles.
Innovating in Field of Work:
• In 2010, when coaching trailblazer Digit Murphy applied for the Brown University men's hockey head coaching job – and didn't get it – she realized there was more to be done for gender equity in her sport.
• After more than 35 years of playing, coaching, developing and training hockey… she couldn't be hired to coach men and had no opportunity to make a living coaching professional women's hockey so she created a new 'door of opportunity' and built Play It Forward Sport.
• In 2001 when her daughter had no elite girls' hockey team, she co-founded the RI IXpress girls' hockey program, the first in Rhode Island.
Impact:
• Prior to joining the Blades, as Head Coach of the Brown University women's ice hockey program, she became the winningest coach in Division I women's ice hockey history during her 18th season at Brown (2006–2007).
• In 2004, Murphy was inducted into the International Scholar Athlete Hall of Fame. The same year, Murphy coached the U.S. National team at the Lake Placid Olympic Festival. Murphy was a member of the 1998 Olympic Selection Committee and has coached at the Junior National level in Lake Placid for eight years.
• In 2002, she testified at a Senate subcommittee about the impact of Title IX and STEM programs.
• At the 1998 olympics, she became the first female to do color commentary in the first televised women's hockey game.
• In 1994 she testified on behalf of the student athletes in Brown v. Cohen Title IX case.
• In 1993 she was inducted to Cornell University's Athletic Hall of Fame.
Role Model:
• She is focused on creating a viable path toward woman's pay equality and opportunity starting with her core passion, woman's ice hockey.
• In 2015 the first annual Play It Forward Girls Sports Festival will be held August 7th – 9th in Rochester, NY welcoming all female athletes passionate for sports at many different ages and abilities. The Festival embodies the values in participation, empowerment, sportsmanship and healthy living, while creating opportunities to play for a lifetime.
Reinvention / Risk / Momentum:
• Digit left Brown University after 25 years of coaching to expand her ability to create change in women's athletics after being turned down for the Men's head coaching position. The fact she even applied for the position was controversial but it was something Digit wanted to do to push woman's equality and opportunity.
"Digit continues to carve out new paths with the focus of her foundation Play it Forward Sport, always leading by example."