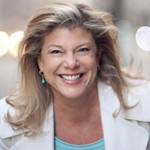 Nan Forte: Innovating How We Look at Health
Chief Product & Content Officer, LivingHealthy
LinkedIn: https://www.linkedin.com/in/nankirstenforte
---
Bio:
Chief Product & Content Officer, Founding Executive, LivingHealthy, Founding Pioneer of WebMD, first Editor-in-Chief and Founder of WebMD, the Magazine and WebMD Mobile for over a decade. In her role as CEO and Editor-in-Chief of Travora, a travel advertising network, she led the company to a successful exit.
Innovating in Field of Work:
• Nan pioneered WebMD.com, an award-winning online news and information publisher. Nan created the first mass market Symptom Checker, designed to help people figure out what their symptoms mean.
• Created the first fully credentialed award-winning daily health newsroom for the public and redefined the concept of "health" news. Won Delta Sigma Chi Awards from Society of Professional Journalists for non-deadline reporting on health issues. Won numerous Webby Awards and her trademark 5-word acceptance speech was "You are not alone anymore."
• Conceived of new ways to generate advertising revenue beyond the banner launching the earliest incarnations of what is native advertising today. Introduced the "sponsor box" and trail blazed the concept of "contextual integration" with full consumer transparency along with developing the standards, policies and procedures for responsible labeling, behavioral targeting and data privacy especially for HIPPA regulations (Health Insurance Portability and Accountability Act of 1996 to protect the confidentiality and security of healthcare information).
Impact:
• She grew the WebMD audience from 1 million+ to over 120 million+ users monthly and delivered revenue growth of over 15% YOY for over a decade.
• She helped take WebMD public, and five years later in 2010, the company experienced greater growth on a percentage basis than Google. She served as a direct report to the CEO running the consumer business and brands and serving as an Executive Officer.
Role Model:
• Nan was WebMD's sole female Executive Officer during her tenure, serving as a role model to every woman at the company. She was a driving force of the WebMD Internship Program and an advocate of working families as she balanced her own family needs with her young daughters. Since moving to other companies, Nan has continued to mentor younger professionals and advise young startup companies.
Reinvention / Risk / Momentum:
• After spending over 12 years at WebMD, Nan took her expertise and leadership to Travora as CEO, taking on a new challenge and industry at the helm of a company.
• She led it through a successful acquisition, and has redefined herself again since, working closely with entrepreneurs as well as larger companies sharing her insights, experience and innovative approach and expanding her passions beyond medical health into the larger lifestyle arena.
"Nan continues advising entrepreneurs like us, making a difference for the new generation." – Kathryn Minshew and Alex Cavoulacos at The Muse