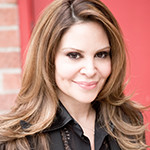 Nely Galan: Tropical Tycoon Empowers Latinas and Women Everywhere
Founder, The Adelante Movement and Founder, Galan Entertainment
LinkedIn: https://www.linkedin.com/pub/nely-galan/0/802/861
Twitter: @Nely_Galan
Website: http://www.nelygalan.com/
---
Bio:
Founder, The Adelante Movement and Galan Entertainment, former President of Entertainment for Telemundo. She is an Emmy Award-winning producer, a media and real estate entrepreneur, as well as an inspirational speaker and passionate advocate for the empowerment of Latinas. Born in Santa Clara, Cuba, she was dubbed the "Tropical Tycoon" by The New York Times Magazine.
Innovating in Field of Work:
• A first generation immigrant and self-made media mogul, Galán was the first Latina president of a U.S. television network (Telemundo).
• Galan Entertainment was responsible for creating and executive producing the FOX reality hit The Swan. Nely then wrote the bestselling companion book, The Swan Curriculum.
Impact:
• Galan Entertainment has launched 10 groundbreaking television channels in Latin America, and has also produced 600 episodes of programming in both English and Spanish.
• Nely is also frequently cited for her influential work as a board member for COUNT ME IN and the Coca Cola Company Advisory Board. She is also an Emeritus member of The Smithsonian Board.
• Nely was recently featured in HBO's "The Latino List" documentary as one of the most influential voices in the Latino community.
Role Model:
• Her company, The Adelante Movement, aims to unite and empower Latinas economically through a digital platform, a national tour of live forums featuring powerful, and accomplished female role models.
• Nely recently launched msmogul.com – a forum for female entrepreneurs aimed at providing support and sharing resources.
Reinvention / Risk / Momentum:
• Nely recently went back to school, where she is completing her Masters/ Doctorate in Clinical and Cultural Psychology, and she has an 11 year-old son.
"…a galvanizing powerbroker in the Latina world, and as a woman's advocate and motivational speaker on empowerment and entrepreneurship…"