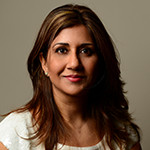 Nilofer Merchant: Innovating Onlyness
LinkedIn: https://www.linkedin.com/in/nilofermerchant
Twitter: @nilofer
---
Bio:
Author; Speaker; The Martin Prosperity Institute Fellow. She's worked for major Fortune 500 companies like Apple and Autodesk, and startups in the early days of the Web (Golive/ later bought by Adobe). She lectures on innovation at Stanford University, and Santa Clara University, her alma mater.
Innovating in Field of Work:
• Nilofer is a leading thinker on changes in work and business that are being driven by the social technologies that have recently come of age.
• Logitech, Symantec, HP, Yahoo, VMWare, and many others have turned to her guidance on new product strategies, enter new markets, and defend against competitors.
• Nilofer is now studying how power is changing so that under-seen groups (women, people over 40, people of color, etc.) can be utilized as important members of society. This is tied to her groundbreaking idea of Onlyness: that each of us is standing in a spot ONLY you occupy and until we allow everyone to count, everyone loses. This concept of Onlyness was the reason she was picked as the #1 person to influence the future of management in both theory and practice.
Impact:
• Nilofer Merchant has launched more than 100 products that netted 18 billion dollars.
• Thinkers 50 awarded her "Future Thinker" recognition in November 2013, to recognize her innovative ideas to change the world of theory and practice.
• Merchant is one of the few people who can say they've fought a competitive battle against Microsoft and won, for Symantec's Anti-Virus $2.1B annual business.
• Fast Company recognized her most recent book, 11 Rules for Creating Value in the Social Era – a Harvard Press book, as a Best Business Book of 2012.
Role Model:
• Nilofer is a strong advocate for women in business, on boards and in management.
• Diversity (and not just gender diversity) is one of the key areas that her work has identified for driving business success.
• Nilofer regularly mentors and advises young women on career development, innovation and regularly lectures at Stanford University and Santa Clara University.
Reinvention / Risk / Momentum:
• Nilofer continually reinvents herself. Last year, she fulfilled a dream when she packed up everything — house, husband, and kid — and moved to Paris
• It's not the first time she's radically reinvented her life. She's pivoted from being an executive in charge of billions in product at major tech companies like Apple and Autodesk to founding her own consulting firm — which she then shut down, at the peak of its success.
• She has gone from being an administrative assistant, to division leader, to CEO to board member of a NASDAQ-traded company along her 25-year career, gathering monikers such as the "Jane Bond of Innovation" along the way for her ability to guide organizations through impossible odds.