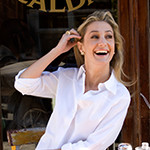 Paula Froelich: Seeing the World Through Fresh Eyes
Yahoo Travel Editor-in-Chief/Digital Media
LinkedIn: https://www.linkedin.com/pub/paula-froelich/30/b59/816
Facebook: www.facebook.com/paula.froelich
---
Bio:
Paula Froelich became the editor-in-chief of Yahoo Travel in April of 2013 after a stint as a senior writer at Newsweek and four years as a freelance journalist writing about politics, travel and pop culture. Paula is also a New York Times bestselling author of the novel, Mercury in Retrograde, and is formerly the Deputy Editor of the New York Post's highly influential gossip column, "Page Six."
Innovating in Field of Work:
• In five short months under her leadership, Yahoo Travel went from primarily a booking site to the largest travel content site in the world.
• She started her own website and has turned that material ("A Broad Abroad") to her own online show on a larger platform.
Impact:
• Paula barged into an industry that is predominantly male – creating her own travel show. She embedded herself with an anti-poaching unit trying to save rhinos, had a sleepover with cheetahs and consulted with South African witch doctors.
• In January 2012 she won a Gold Medal award from the North American Travel Journalists Association for her Playboy article, "Down And Out In Baghdad."
• As a digital consultant, she helped the Sundance Channel win a CableFax award in the Integrated Marketing Campaign Category.
Role Model:
• She encourages finding one's own path versus spitting general advice. Paula can be found on various panels giving straight talk. Honesty and her funny candidness are some of her great qualities.
• She's also a big proponent of women and empowerment, not just for her audience but also to advertisers. Almost all her editors are women.
Reinvention / Risk / Momentum:
• In one anthology, Paula describes herself for having burned to the ground like a ball of fire and rising from the ashes.
• Paula is a symbol of reinvention. In her life and stories, she challenges notions and views. She advocates seeing the world with different eyes. For example, she followed a cross-dressing woman and then made herself look like a man as well to see what would happen differently and it was all, as they say, caught on tape.
"After all these years of people telling me women didn't travel, and they certainly didn't do adventure stuff, this is the only female adventure show out there."