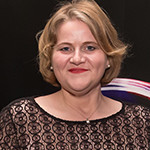 Ruthe A. Farmer: A Leader and Innovator in Engaging Girls in STEM
Chief Strategy & Growth Officer, Director, K-12 Alliance, National Center for Women & IT (NCWIT)
LinkedIn: https://www.linkedin.com/in/ruthefarmer
Twitter: @ruthef
---
Bio:
Chief Strategy & Growth Officer, National Center for Women & IT (NCWIT). Ruthe leads strategy, development and partnerships at NCWIT and directs NCWIT K-12 Alliance. Previously she worked for The National Centre for Women & IT as well as the Girl Scouts in Technology & Engineering Education. She has a BA from Lewis and Clark College and an MBA in Social Entrepreneurship from Oxford's Said Business School and sits on multiple boards / advisory boards.
Innovating in Field of Work:
• Ruthe has a history of successfully scaling up innovative STEM projects, these include:  
• She's the driving force behind NCWIT's highly successful Aspirations in Computing, a talent development initiative with outreach programs and awards. She designed the NCWIT Aspire IT outreach program to engage 10,000 girls in computing by 2018, and launched NCWIT's Latinas in Technology campaign.
• She established a national Lego Robotics program at Girl Scouts, including scaling out the Intel Design & Discovery engineering program to 63 locations, and forming a national partnership between FIRST Robotics and the Girl Scouts. She created GirlFEST, a one-day resource expo celebrating "everything cool about being a girl." The inaugural event drew 10,000 girls and has been widely rolled out in the Girl Scouts.
• She also developed "On the Road: the Savvy Girl's Guide to Cars", a comprehensive program on automotive careers, safety, and maintenance sponsored by Firestone and the US Department of Labor.
Impact:
• She impacts girls daily with the work she does. As well, she has received national and international awards and honors including being named a Champion of Change for Technology Inclusion by the White House and has been an invited speaker at the White House, the United Nations International Telecommunications Union, the European Union Energy Committee, Stanford University and many more.
Role Model:
• The nature of Ruthe's work and success make her a role model.
• In addition to establishing the Award for Aspirations in Computing which serves as an inspiration to young women, she continues to involve young award winners in a variety of activities even taking several each year to the White House.
Reinvention / Risk / Momentum:
• Ruthe is passionate about integrating innovative and entrepreneurial strategies into her work. She has continuously found new, creative and exciting ways to engage girls in STEM initiatives.
"She has accomplished all of the phrases noted in your… question: Creating Growth, Charting New Courses and Developing new World Ideas"