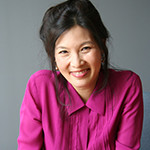 Sheryl WuDunn: Holding Up Her Half of the Sky
Partner, Piedmont Partners Group Ventures; Pulitzer Prize winner, Half the Sky
LinkedIn: https://www.linkedin.com/pub/sheryl-wudunn/11/853/338
Twitter: @WuDunn
---
Bio:
Sheryl WuDunn is a Pulitzer prize-winning journalist for her book China Wakes, and New York Times bestselling author of Half the Sky. Currently, she runs a financial advisory for ambitious growth companies. She is a Member of the Board of Trustees for Cornell University and holds Honorary degrees from the University of Pennsylvania and Middlebury College.
Innovating in Field of Work:
• As an executive and journalist at The New York Times, she built a wide network of confidential sources, a deep knowledge of Asia and won a Pulitzer Prize for her writing,
• Sheryl has disrupted thinking around the world on China, with her book, China Wakes (Pulitzer Prize), on aggression against women (Half the Sky) and more recently on volunteering and charity, with the success of A Path Appears.   
• Sheryl is also has a senior role in finance at Mid-Market Securities and is a Venture Partner at private equity firm, Piedmont Partners Group Ventures, LLC.  In this role she evaluates businesses and their ability to transform their business models.
Impact:
• Pulitzer Prize for China Wakes, wrote the groundbreaking Half the Sky with Nicholas Kristof
• Named one of Newsweek's 150 Women Who Shake the World, and Fast Company's League of Extraordinary Women.
Role Model:
• She is frequently cited as held up as a role model for young women, and has a wide reach given her books, TV appearances (the last two books both became PBS specials) and public speaking engagements.
Reinvention / Risk / Momentum:
• From journalist to strategic planner at the New York Times, a pivot to financial advisor and angel investor, co-author of a NY Times bestselling book, and now boutique investment advisory.
"Sheryl has changed over the last 20 years from a young journalist to an important and mature voice for a generation."