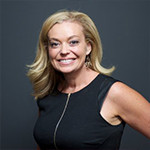 Suzanne McKechnie Klahr: Igniting the Potential of Disadvantaged Youth
Founder and CEO, BUILD
LinkedIn: http://www.linkedin.com/in/suzannemckechnieklahr
Twitter: @SMKlahr
---
Bio:
Founder & CEO, BUILD; Lecturer, Harvard Law School & Stanford Law School. Suzanne is the CEO of BUILD, which teaches disadvantaged youth the skills of entrepreneurship. She lectures at both Harvard and Stanford Law Schools on social entrepreneurship. Prior to founding BUILD in 1999 she worked as a lawyer.
Innovating in Field of Work:
• Through entrepreneurship-based experiential learning BUILD ignites the potential of disadvantaged youth & equips them for high school, college & career success.
• BUILD begins in the 9th grade as a daily, in-school, credit-bearing elective ("Introduction to Entrepreneurship") taught by BUILD-trained teachers.  About 50% of these students participate in BUILD's after-school grade 10-12 incubator program working in teams alongside mentors to launch a business.
• BUILD currently partners with 23 high schools in 5 cities across the US and is run by a staff of 100 supported by 1,100 volunteers. Volunteers provide mentoring, review business cases, help with college preparation and more.
Impact:
• BUILD: Has served more than 4,000 students and incubated over 750 youth businesses. Since 2012, 97% of students completing the program have graduated high school, 98% of those have been accepted to at least one postsecondary option.
• Suzanne: lifetime member of Ashoka (2006), CBS Jefferson Award (2007), San Mateo County Women's Hall of Fame (2008), named one of Silicon Valley's Most Influential Women (2009) by the Silicon Valley/San Jose Business Times; Manhattan Institute Social Entrepreneurship Award (2012)
Role Model:
• Based in schools with limited college guidance resources, BUILD fosters a college-going culture, which is critical for students who have never considered themselves as college-bound.  
• From an alumnus: "In my family, everyone I have ever looked up to has turned to selling drugs as the answer. I am a salesman and an entrepreneur, too. But I make a product that helps – not hurts – people…BUILD has been my second family, and has motivated me during the hard times. BUILD has really changed my life."
Reinvention / Risk / Momentum:
• BUILD grew from a drop-in business lab in 1999 to an in-school business class and has continued to evolve to the current program.
• Suzanne and BUILD are continually improving programming, increasing the number of schools and cities served and finding ways reduce costs and fund programming.
"I am determined to continue spreading the BUILD curriculum until every low-income, disadvantaged, disengaged student feels they have the skills to attend and succeed in college and excel in the working world."