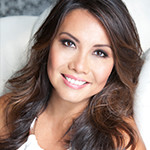 Taryn Rose: Blending Fashion and Comfort
Founder, DRESR
LinkedIn: https://www.linkedin.com/in/tarynrose
Twitter: @realtarynrose
---
Bio:
Founder & CEO, DRESR. In 2014 Taryn launched DRESR which is focused on innovating products and services at the intersection of fashion and technology. Prior to this she founded and built her namesake shoe company. She is formally trained as an orthopedic surgeon.
Innovating in Field of Work:
• With DRESR Taryn is planning to use technology to disrupt the footwear industry with a proprietary technology that makes even the sexiest high heels comfortable. The shoes launched exclusively online with the belief that it can shorten the time it requires to build a brand. Going forward her plan is to develop software that will provide a similar level of personalized service similar to what customers receive in stores
• At Taryn Rose (her namesake shoe company) she combined medical know-how with design to offer stylized shoes that are comfortable.
Impact:
• Built her previous business to $40M in revenue before selling to private equity
• She has been featured in on Oprah, CNN, Today Show, New York Times, People magazine and many other programs, magazines, etc.
• She has received multiple awards and recognitions including Fast Company's list of "25 Women Entrepreneurs Who Are Changing the Game" (2005); "One of the Most Powerful Women in NYC" by New York Moves Magazine (2005); recognized as Distinguished Role Model & Entrepreneur in LA during Asian Pacific American Heritage Month celebration (2003)
Role Model:
• A single mother of 3 children she has always blended her family and work life and says that being an entrepreneur has allowed her the freedom to do this and therefore she encourages women to be entrepreneurs.
• She focuses on maintaining good health, vitality and youthfulness through exercise, spiritual growth, and emotional fulfillment.
Reinvention / Risk / Momentum:
• She has reinvented herself from surgeon to fashion entrepreneur and now she is using her experience in the footwear and retail industry and combining it with technology to innovate in a large but mature industry.
"I'm not about e-commerce..I'm about ALL commerce…. Having more experience I think I can inspire younger women to have a wider view of the world and older women a wider view of themselves."