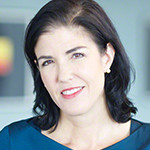 Tina Fordham: Blazing a Trail in Banking
Managing Director, Chief Global Political Analyst, Citigroup
LinkedIn: https://uk.linkedin.com/pub/tina-fordham/19/335/84
Twitter: @tinafordham1
---
Bio:
Managing Director, Chief Global Political Analyst, Citi Research Citigroup. Tina is a trailblazer in the field of political analysis for companies and investors, a discipline she has been at the forefront of creating and advancing over the past 15 years.
Innovating in Field of Work:
• Tina Fordham is the first and only chief political analyst to work for a major financial institution.
• Fordham anticipated the need for specialized political analysis well before it happened, and is now one of the most prominent women in the financial services industry as well as a highly-respected foreign policy analyst, bridging two very different (and thoroughly male-dominated) worlds.
• Trained as a comparative political scientist and having spent her early career doing fieldwork and civil society development in East Central Europe and the former Soviet Union, Fordham's career trajectory has challenged the long-standing primacy of economics and more traditional disciplines within investment banking research.
Impact:
• She has been named in the Top 100 Most Influential Women in Finance and Top 19 Economists on Wall Street and a frequent speaker at Citi and financial service industry events designed to encourage women to join banking.    
• She is among the top-read and most high profile research analysts on Wall Street.
Role Model:
• Fordham serves on Citi's Diversity Board, an initiative of the Corporate and Investment Bank dedicated to promoting female leadership and development opportunities within the bank.
• She is a single mother to two young daughters who tolerate her early morning starts, frequent absences and obsession with geopolitics, and claim they have the best mother in the world.
Reinvention / Risk / Momentum:
• From creating the first-ever political and economic risk index on Wall Street, the Lehman-Brothers Eurasia Group Stability Index (launched in 2001) to single-handedly establishing Political Analysis as a product area within Citi Research alongside economics, commodities, equities, credit and other asset class research, Fordham always seeks new ways to develop and refine her approach.
"She is one of the most collaborative and cross-asset authors at Citi and specializes in the phenomena that is most difficult to model, an approach that rests upon testing existing boundaries and assumptions."