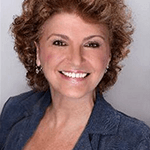 Angelina Fiordellisi: Cultivating theatre and its artists while addressing contemporary issues
Founding Artistic Director, Cherry Lane Theatre
Twitter: @afiord
LinkedIn: https://www.linkedin.com/in/angelina-fiordellisi-465bba75
Website: www.cherrylanetheatre.org
---
Bio: Artistic Director of the famed off-Broadway Cherry Lane Theatre (20 years) and founder of Cherry Lane Alternative and Cherry Lane Studio (producing company and space helping launch the next generation of playwrights.) Actress on Broadway, Off-Broadway and in National Tours, film and television.
Innovating in field of work:
Created the Obie Award-winning program, the Mentor Project, to connect leading dramatists in one-on-one mentorships with emerging playwrights.

Newly created 'Founder's Project' to provide continuing opportunities for veteran artists over 60, to combat the ageism that is endemic in the theatre.
Impact:
Has launched new works by 53 emerging dramatists.

Over 20 seasons has discovered, nurtured and produced the work of over 3500 artists
Engages young women and minority writers and directors (uncommon in the entertainment industry)
Advanced alumni of program have had flourishing careers on- and off-Broadway, including winners of 8 Pulitzer Prizes, 15 Obie Awards, 8 Tony Awards and 2 Oscars.
Role Model:
As part of 'Founder's Project' she is returning to acting in the theatre herself, as an over 60.

Constantly mentoring and launching great new talent.
Reinvention / Risk / Momentum:
Commissioned Israel Horovitz to write a play specifically for Estelle Parsons and Judith Ivey. First of annual productions to feature a play written, directed, and acted by stars over 60.

Newly tackling the 5Rhythms meditation practice; inspirational to friends and colleagues.
"Angelina Fiordellisi and the Cherry Lane Theatre are embracing and honoring a growing community of artists who have given their lives to the American theatre, and need for it now to give back."