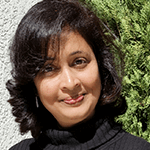 Anima Patil-Sabale: Creating History with NASA
Scientist-AStronaut Candidate, Projects PoSSUM and PHEnOM/Software & Aerospace Engineer, NASA
Twitter: @animaontwit
LinkedIn: https://www.linkedin.com/in/animasabale
Website: http://www.animapatilsabale.com
---
Bio:  Anima is a Software and Aerospace Engineer with a MS in Aerospace Engineering and a MS in Computer Applications. She is currently working in the Intelligent Systems Division at NASA Ames Research Center and pursuing her childhood dream of becoming an astronaut, enjoying every bit of the journey while sharing her knowledge and experiences with youth and guiding them.
Innovating in Field of Work:
Anima has been a Commander for HERA VII – a 14 day Human Exploration and Research Analog at NASA's Johnson Space Center. She is Scientist-Astronaut Candidate for Project PoSSUM (Polar Suborbital Science in the Upper Mesosphere); and Project PHEnOM (Physiological, Health, and Environmental Observations in Microgravity). She is also a First Tier Support Engineer for Hi-SEAS; a NASA Ames Speakers Bureau Member, NASA Girls Mentor, Boy Scouts of America – Assistant Scout Master and Cub Scouts Den Leader, FLL Robotics Coach, Scuba Diver and a Student Pilot. She is a singer, dancer and a choreographer in addition to being a painter and an amateur writer.
Impact:
Through her "My Astronaut Aspirations" website and her Facebook "Astronaut Aspirant Anima Patil-Sabale" page, Anima has been answering questions from young girls and boys from ages ranging 5 years to those studying in colleges and universities, to women her own age, who ask her how does she manage her routine of work, family, household duties and do all the things she does for her dream job. Students ask her how can they pursue their dreams, how can they become scientists, engineers and astronauts.
Role Model:
Anima pursues her motto to Inspire, Guide and Motivate the younger generation and provide them the direction she missed out on while growing up; through her website http://www.animapatilsabale.com and through her Facebook page: http://www.facebook.com/animpatilsabale.
Once she got her first opportunity at NASA to work on the Kepler Mission as a Senior Principal Software Engineer, and she started doing talks for students, and kept moving ahead towards her goals by doing things such as participating in simulated studies, training to be a pilot, getting scuba certified, being a Commander for the HERA mission, everyone around her realized where she was headed and now she has support from her parents and husband and she is all charged up to go ahead full speed.
Reinvention / Risk / Momentum:
Anima's spirit of never giving up and pursuing her childhood dream after coming to the US, despite a lot of hurdles, and being late in life to pursue a dream, is inspirational. She had a 3 year old when she decided to start her second Masters which was in Aerospace Engineering, so she could start working towards her dream job; She had her second son by the time her MS was done. She faced opposition and had minimal support from parents and husband, remarks from friends as to why she had to study now, at this age, when she had a great job as a software engineer, a big house, a kid and a well settled life?! But she persisted, stood her ground and never gave up. She convinced everyone and gradually started winning their support. She is happy with everyone's support today and is sure her dream will soon come true!
With her positive attitude she tackles life's challenges with relish. She is self-confident and has a strong will to succeed, to see how much she can do and how far she can go. She makes a good leader, inspiring courage and confidence in others.
"Anima is a part of the newest, history making projects for NASA."