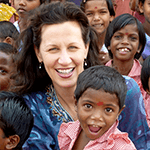 Caroline Boudreaux: Empowering Orphans to Teach Their Full Potential
Founder, Miracle Foundation
Twitter: @themiraclefound
LinkedIn: https://www.linkedin.com/in/carolineboudreaux
Website: www.MiracleFoundation.org
---
Bio: Founder of the Miracle Foundation, Austin-based non-profit, since 2000. Previously Account Executive with KTBC FOX 7.
Innovating in Field of Work:
Transforms struggling, institutional orphanages in the developing world into stable, loving, nurturing homes.

Focuses on strengthening existing institutions and providing meaningful employment to locals in need of work.

Developed proven three-phase method to close gaps in quality of care and helped codify international standards based on United Nations Convention on the Rights of the Child.
Impact:
Young Global Leader with the World Economic Forum—leader in policy-level approaches to the global orphan crisis, enlisting support of leaders worldwide.

Exploring partnerships with state governments in India and other countries preparing to scale for exponential expansion.

Trains displaced women to become mothers and funds scholarships for orphaned children.

Actively works with 22 orphanages, giving over 2000 orphans 'a childhood that would have otherwise been impossible.'
Role Model:
Mentors 3 people in non-profit sector monthly.

Counsels and provides support and mentoring, or encourages others to find an existing non-profit already engaged in the work they are passionate about.

Engages the residents of Texas and across the nation to assist the less fortunate.
Reinvention / Risk / Momentum:
Left advertising career to dedicate herself to non-profit work after chance encounter with an Indian orphan while on vacation.

For 16 years has confronted cultural barriers and corruption.

Recruited a world-class Board and staff, and enlisted "hundreds of business people, tech giants, doctors, child development experts, donors and volunteers" to fix the broken system of orphanages internationally.
"Caroline invested her life savings and founded the Miracle Foundation on the idea that all orphans deserve a childhood, clean water, nutritious food, high-quality healthcare, an excellent education and a loving home so they can reach their full potential."