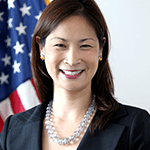 Christine Harada: Transitions from Designing Satellite Systems to Consulting to Overseeing Federal Environmental and Energy Sustainability
Federal Chief Sustainability Officer, White House Council on Environmental Quality
Twitter: @Chrismit94
LinkedIn: https://www.linkedin.com/in/christine-j-harada-368a2
Website: https://www.whitehouse.gov/administration/EOP/ceq
---
Bio: Currently, White House Federal Chief Sustainability Officer (since Nov 2015); Previous roles include Acting Chief of Staff, US General Services Administration (GSA) and working for BCG, Booz Allen Hamilton and Lockheed Martin. MBA from Wharton, BS and MS in Aeronautics / Astronautics from MIT and Stanford (respectively)
Innovating in Field of Work:
Works at the cutting, government sponsored, edge of environmental and energy responsibility

Works collaboratively with the President's office and Federal agencies to implement Executive Orders on sustainability and Green Gov initiative

Previously consultant to Fortune 500 and public sector clients tackling pressing challenges

Began career developing satellite systems/subsystems
Impact:
She's responsible for promoting environmental and energy sustainability across Federal Government operations: 360,000, 650, 000 vehicles, and $445 billion annually in purchased goods and services.

I

n her work with the GSA she provided government-wide policies and guidance to enable the sustainable and efficient use of assets, effective acquisition leadership, identity management and sound information management."

While at Booz Allen Hamilton, grew the practice she led by 44% over 2 years ensuring successful delivery of a $70 million portfolio of projects
Role Model:
Natural mentor to both men and women

Fosters and atmosphere where people thrive

Balances drive and excellence with a warm, kind and funny spirit
Reinvention / Risk / Momentum:
Always seeking new ideas and perspectives

Open-minded, curious and hungry to learn.

Success in initial government role at GSA opened up a larger opportunity at the White House where she can have a bigger impact.
"She never set out to consider government service, but when recruited she embraced the role and has thrived. I think Christine probably has two or three more careers left in her…."