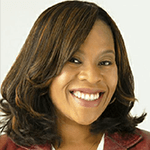 Ekpedeme "Pamay" M. Bassey: Educator, Leveraging Her Remarkable and Varied Talents to Communicate, Connect, and Enrich Those Around Her
Global Learning and Development Executive, Author, Speaker, and Facilitator, BlackRock/My 52 Weeks of Worship Project
Twitter: @my52wow
LinkedIn: https://www.linkedin.com/in/pamay
Website: www.my52wow.com
---
Bio: Global Head of Professional Development, BlackRock; Founder and Chief Experience Officer, My 52 Weeks of Worship Project. Formerly Andersen Consulting. President of the Pamay Group, an innovative education consultancy firm
Innovating in Field of Work:
Launched My 52 Weeks of Worship Project in 2010 and authored book,

My 52 Weeks of Worship: Lessons from a Global, Spiritual, Interfaith Journey

to encourage conversation in the public arena about spirituality, faith, religion, culture and understanding

Visited 61 different places of worship worldwide in 1 year to increase spiritual connectedness—does what she challenges others to do

Developed a unique space through her consulting company. The Pamay Group focused on creating innovative educational environments, with a focus on e-learning design/strategy projects, blended learning solutions, user experience.

Serving as an intrapreneur in her role at BlackRock, focused on creating a culture of continuous learning and providing engaging learning experiences for all employees, including innovative technology-enabled learning solutions.
Impact:
Left own firm to join BlackRock as Global Head of Learning Platform and Professional Development and bring expertise to the global professional development of 14,000 employees worldwide.  

40 under 40 recipient from EnVest in 2012 for demonstrated excellence in community service, charitable giving, and professional performance

2015 Woman of Influence, Chicago Business Journal for participation in events focused on mentoring women in various career stages

Serve on National Advisory Board at The Haas Center for Public Service at Stanford University, contributing to efforts to create opportunities for students to engage in meaningful service, during and after college.
Role Model:
Mentors and sponsor young people to be the authors of their own success

Member of Delta Sigma Theta, Public Service organization

Volunteer, icstars Technology Leadership Training Program

Advisor, Spiritual Playdate, a fresh, new, interfaith method to teach, learn, and explore spirituality with children
Reinvention / Risk / Momentum:
Wears multiple hats at a time, and tries new ones regularly– actor/comedienne, executive, entrepreneur, educator, world traveler, author, philosopher writer/blogger, Huffington Post

The goal of her passion project is to help increase understanding and compassion among those from different faith communities, and to encourage people to stand respectfully side by side with those with different viewpoints
"Reinvention, lifelong learning, and continued personal development are part of Pamay's lifeblood"