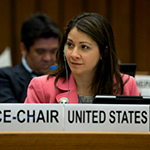 Frances Colón: Government Advocate for Science and Innovation in Public Policy and Diplomacy
Deputy Science and Technology Adviser, U.S. Department of State
Twitter: @fcolonindc, @STASatState
LinkedIn: https://www.linkedin.com/in/frances-a-col%C3%B3n-33471b5
Website: http://www.state.gov/e/stas/staff/index.htm#colon
---
Bio: Deputy Science and Technology Adviser to the Secretary of State, U.S. Department of State; previously Science and Environment Adviser for Western Hemisphere Affairs, U.S. Dept. of State.
Innovating in Field of Work:
Utilizes expertise as scientist to build bridges between science, technology and innovation and high-level decision-makers in the U.S. around the world

First Executive Branch official to meet with Cuban science and environment ministries in Cuba in more than 50 years

Launched a series of emerging technology briefings for senior decision-makers to interpret potential foreign policy impact of disruptive technology trends
Impact:
An ambassador for the power of science, technology and innovation as diplomacy tools

Represented U.S. Government as Vice Chair of the United Nations Commission on Science and Technology for Development

Launched

Cenadores Puerto Rico

, a nonprofit that harnesses the connections and expertise of the Puerto Rican diaspora to empower civil society on the island- "because it is time to give back to the place that shaped me".
Role Model:
Outspoken advocate for women/girls to pursue leadership roles in STEM

One of the highest-ranking Hispanic women in foreign policy

Launched a women leadership series as Board Member of the University of Puerto Rico Alumni and Friends Abroad
Reinvention / Risk / Momentum:
Graduate of National Hispana Leadership Institute, one of the most prestigious leadership programs for women in the US.

Part of the White House 'Untold History of Women in STEM' project, sharing stories honoring unsung heroines

Board Member Grupo Guayacan, nonprofit that spearheads private equity investment in Puerto Rico's entrepreneurial ecosystem
[She] "is extremely passionate about mentoring women and lifting others as she climbs….On multiple occasions she has nominated me to attend or speak at events in her place."