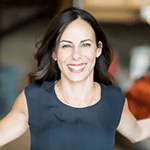 Jenny Lefcourt: Investing in People with Big Ideas
Freestyle VC, Freestyle
Twitter: @jennylefcourt
LinkedIn: https://www.linkedin.com/in/jennylefcourt
Website: http://freestyle.vc/team_members/jenny-lefcourt/
---
Bio:  Jenny Lefcourt is a seed-stage Venture Capitalist at Freestyle.  
Innovating in Field of Work:  
Jenny had been a serial entrepreneur (WeddingChannel.com, Bella Pictures) who had raised tens of millions of venture capital before becoming a venture capitalist herself.  

She now invests in technology companies at the seed stage and works closely with her entrepreneurs to help them build their business, build their teams, and have the next round of financing done by top-tier VCs.  
Impact:
Jenny makes an impact by investing in incredible people with big ideas and supporting them throughout their journey.
Role Model:
Jenny is a role model to women entrepreneurs as she has been one herself and now invests in them as a living. Jenny works closely with the founders that she has invested in and teaches entrepreneurship and fund-raising to women at Stanford and other venues.

Jenny speaks candidly about having a husband and three kids while having a very fulfilling career (not always at the same time!)
Reinvention / Risk / Momentum:
Jenny is constantly disrupting herself by taking on new challenges and learning new skills.  Jenny teaches the 'growth mindset' to her kids and has been following it herself. Jenny is harnessing the power of her experiences as an entrepreneur to make herself a better venture capitalist.  

She took on a completely new job at the age of 45 in an industry dominated by men (95% of 'check writers' are men!).
"Jenny helps other women in the ecosystem and helps to change unconscious biases."