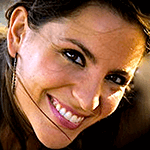 Jill Van den Brule: Empowering Young Women
Humanitarian & Social Entrepreneur, MPOWERD
Twitter: @jijivdb
LinkedIn: https://www.linkedin.com/in/jijivdb
Website: www.mpowerd.com
---
Bio:  Jill Van den Brule is a humanitarian and entrepreneur who took her experiences in post earthquake Haiti and co-founded, as the only woman, a company that created a solar lantern called the Luci lantern.
Innovating in Field of Work:  
Jill devoted her life to social good and education as an international development expert with 15+ years experience in programming and policy related to human rights, education and emergency relief with a focus on strategic communications/partnership development.

She was part of the UNICEF's emergency response team in post-earthquake Haiti. Held leadership positions with numerous UN agencies and international NGOs. A true activist, she's conceived of numerous innovative advocacy campaigns aimed at promoting global development goals including #investingirls (2014).

Together with her partner, Belgian-Congolese artist Kito Mbiango, she has joined her passion for art with her advocacy work, curating art shows focused on promoting social cohesion through women and girl's empowerment. The first was launched at

Women Deliver

in Copenhagen in 2016 and was applauded by its patron, Crown Princess Mary of Denmark.
Impact:
She represented UNESCO in the UN Convention of the Rights of Persons with Disabilities. During this time she produced a documentary featuring Philip Seymour Hoffman, which profiled different leaders in the disability movement.

She launched the UN SG's SDG Advocacy Group in Davos 2016. Her efforts together have helped position many of the organisations where she has worked as leaders and pioneers in the global dialogue by doing things differently.

She was named one of the

Top 50 Philanthropists of 2016 by Town & Country.
Role Model:
Jill has invested a great deal of time as well to empower young women – from Haiti, to Ethiopia, to South Sudan and Nigeria. She was responsible for youth programming in Haiti and brought many young women to speak at the UN Special Session on Youth, which led to the creation of a youth consultative group under the First Lady of Haiti.

She also worked to bring the youngest women advocates to Davos with the UN to moderate a panel on "Investing in Girl Empowerment for MDG Acceleration" in January 2014 contributing to the promotion of Ms. Hannah Godefa's work as a youth advocate. She was responsible for inviting Emma Watson's to launch the #heforshe campaign as part of a UN event in Davos together with two young activists, a South Sudanese model and a young Nigerian entrepreneur. She has continued to support the young entrepreneur personally and joined forces with two friends from Barnard College, her alma mater, to help support the young scientist/inventor to attend college.
Reinvention / Risk / Momentum:
This person is exceptional at disrupting themselves, constantly finding synergies between projects and generating ground-breaking ideas.
"Jill is a woman who works behind the scenes mentoring young women both in her work & in her personal life, helping them to carve out their careers paths in new & ground-breaking ways."