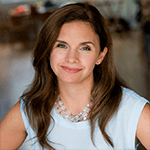 Julie Bombacino: Providing 'Real Food' to Patients Requiring Feeding Tubes
CEO, Real Food Blends
Twitter: @RealFoodBlends
LinkedIn: www.linkedin.com/in/jbombacino
Website: www.realfoodblends.com
---
Bio: Co-Founder & CEO, Real Food Blends. Previously online marketing consultant for Bombacino Marketing Co.; Senior Vice President, Marketing, optionsXpress (investment services)
Innovating in Field of Work:
Refused to accept status quo when her son failed on prescribed commercial feeding tube formulas (made with corn syrup) – so started making her own, pureeing food, no additives, preservatives

100% real food meals for people (age 1 and up) with feeding tubes, changing the way tube-fed children and adults eat and making real food a convenient option for tube-fed people of all ages

Engages dietitians and doctors, insurance companies so that RFB meals will be covered by insurance and patients have assistance dealing with the insurers.
Impact:
Passionate community of 'raving fans.'

In 2015, first full year of operation, easily surpassed $1 million in sales.

Dramatic improvements for tube fed patients

Expanding distribution to meet growing demand
Role Model:
Strong advocate and mentor to women, especially moms of special needs children, on social media.

Inspires others to find solutions where none exist and to use their talents to disrupt for good.

Meets in person with parents and caregivers to provide support and assistance.
Reinvention / Risk / Momentum:
Real Food Blends grew out of personal need to solve nutritional and health problems of her tube-fed young son, who had adverse reactions to traditional corn-syrup based feeding products.
"Julie didn't set out to start a business; she set out to solve a problem."