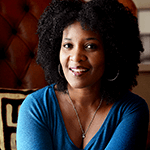 Karen Walrond: Corporate Attorney Turned Photographer, Author and Speaker on Intentional Living, Creativity, Connection and 'Thriving'
Photographer, Author, Speaker, Chookooloonks Media LLC
Twitter: @chookooloonks
LinkedIn: https://www.linkedin.com/in/karenwalrond
Website: http://www.chookooloonks.com
---
Bio: Currently, Owner of Chookooloonks Media, and Co-Director, Collaboration & Development, for The Daring Way™; previously, Assistant General Counsel, Paradigm Geophysical; Programming Manager, AOL; Chief of Staff, Halliburton Energy; Chief Counsel, Landmark Graphics Corp.; Attorney, Landmark Graphics
Innovating in Field of Work:
Chookooloonks award-winning photoblog is inspirational source on intentional living, authenticity, gratitude and creativity.

Author of the bestselling book,

The Beauty of Different

, championing the message that our differences make us beautiful, may even be our superpowers

Public speaker, writer, photographer, Certified Daring Way™ Facilitator
Impact:
Co-Director of The Daring Way™, an organization which trains and certifies helping professionals in Brené Brown's empirically-based research on authenticity, courage, empathy & vulnerability.

Sought-after keynote speaker on

self-empowerment, creativity and innovation; has spoken extensively on leadership, ethics and diversity at universities, legal organizations and many other audiences around the country.

Author and Creator of Chookooloonks, an award-winning photoblog and an inspirational source for living with authenticity, gratitude and connection.

Appearances on PBS, Huffington Post, CNN.com and The Oprah Winfrey Show.
Role Model:
Speaks frequently to children, teens, college students on relationship between our uniqueness and the power in our individual beauty

Member, ONE Girls and Women Advisory Board, and part of the ONE campaign, and an activist against poverty and preventable disease in developing countries

Writes frequently about anti-racism as well as cross-cultural and cross-racial connection.
Reinvention / Risk / Momentum:
After practicing law for 15 years, specializing in software licensing and software development law; now author, photographer, speaker and producer of digital content

Left high-powered legal/corporate career to effect more personal and positive change in the world.
"Karen is a prominent speaker and writer on the topic of thriving—through leadership development, the magic of creativity, the valuing of cultural and racial diversity, and the power of social media."