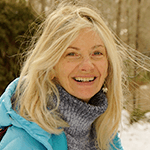 Kyle Ann Stokes: Providing Hope for Women in Film
Co-Founder and Filmmaker, IRISgoestothemovies/The Writers Lab
Twitter: @The_Writers_Lab, @kamsl919
LinkedIn: www.linkedin.com/in/kyle-ann-stokes-b578798
Website: http://thewriterslab.nyc/
---
Bio:  Kyle Ann Stokes is the Co-Founder of IRIS focused on promoting women in film and the Co-Founder of The Writers Lab, filmmaker, mother, and community volunteer.
Innovating in Field of Work:  
Kyle is the visionary and co-founder of IRIS an organization that seeks to amplify

the female voice through narrative feature films, generating a balance in storytelling and vision to ultimately empower women on a global scale.

IRIS's first venture is The Writers Lab, a screenwriting lab for women over 40, funded by Meryl Streep.  
Impact:
The inaugural year, 2015, was a great success, and Kyle is currently preparing for the 2016 retreat. The initiative attracted global attention to the gender and age inequity rampant in Hollywood.
Role Model:
The Writers Lab is a beacon of hope for women of all ages in film reminding female filmmakers that work life can, should and will continue well past 40.

Volunteer interviewer for the New York Public Library's

oral-history project

.
Reinvention / Risk / Momentum:
Kyle reinvented herself after starting a family. She used her experience as a film editor and years of work supporting male-driven production companies and decided to speak up for a suppressed demographic using the tools she's cultivated for decades.
"The Writers Lab is a beacon of hope for women of all ages in film."