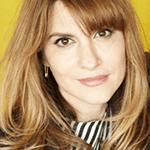 Rebecca Odes: Amplifying Women's Voices
Co-founder, Wifey.tv
Twitter: @rebeccaodes, @wifeytv
LinkedIn: https://www.linkedin.com/in/rebeccaodes
Website: http://wifey.tv
---
Bio:  Rebecca Odes is the Co-Founder of the internet-based platform Wifey.tv. She also co-founded Gurl.com and is an author of four books about identity for women and girls.
Innovating in Field of Work:  
Rebecca Odes has been innovating at the intersection of women, identity and technology for 20 years. In her 20s, she co-founded Gurl.com, the first major website for teenage girls and young women. The Gurl media properties created a new way of talking to girls about puberty and sexuality, reinvented the language of sex-ed and presaged the social network. In her 30s, she turned her attention to another identity transition: becoming a parent.

FROM THE HIPS ushered in a new era of guidebooks about pregnancy and parenthood.
Impact:
Now in her 40s, Rebecca co-founded Wifey.tv with TRANSPARENT creator Jill Soloway to maximize the potential of the internet to amplify women's voices. Wifey is a video platform for content by and for women—as subjects, not objects. Wifey's first docuseries THIS IS ME received an EMMY nomination, and its scripted comedy THE SKINNY premiered at Sundance and was nominated for a Webby award.
Role Model:
At Wifey, we work with women at early stages of their careers in all aspects of the process, from production to editorial. It is primary to the mission of Wifey to promote work from authorized voices (specifically non cis-male) which are marginalized in mainstream media. We are committed to hiring female crews and creators for in-house projects and mentoring developing artists. Our first scripted series was produced in collaboration with writing assistants from TRANSPARENT. These young women brought expertise gleaned from that show, and in turn were given their first opportunity to take a senior role on a creative project. We also regularly work with college interns in curating and creating content.
Reinvention / Risk / Momentum:
Rebecca has been serially radicalized by the complex challenges around women and identity, from adolescence to motherhood to gender expression. After taking a few years to focus on her own family in the mid 2000s, she began to hone a vision of a new kind of media platform without the usual barriers to entry for female-focused media. She joined forces with Jill Soloway, whose brilliant work addressed many of the same issues in narrative form. In many ways Wifey is a culmination of Rebecca's previous work, incorporating the inclusive mission of both Gurl and From The Hips to normalize a wider range of experiences and representations of women as subjects, not objects.     
"We feature and produce media by female auteurs and help serve as a launching pad toward large scale endeavors."