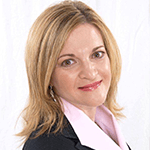 Shelley Westman: Creating a Community for Women in Security
VP, Operations & Strategic Initiatives, IBM Security
Twitter: @SW777111
LinkedIn: https://www.linkedin.com/in/shelleywestman
---
Bio: Shelley Westman is the Vice President of Operations & Strategic Initiatives for IBM Security.
Innovating in Field of Work:  
In addition to overseeing business operations, Shelley serves on several IBM boards and committees that are focused on strategic hiring and skills, and also leads the IBM Security University Programs.
Impact:
Shelley formed WISE, Women in Security Excelling, a community focused on the empowerment of women in cybersecurity at IBM. A huge success, WISE boasts more than 800 members worldwide and has become the "go to" place for women in security to participate in quarterly meetings on security topics of interest, visit the webpage for community events and other links of interest, and network with women across IBM worldwide, all with an interest and focus on security

Shelley has been a welcome addition to the NAFE (National Association for Female Executives) workshop roundtable focused on bringing men into the conversation on women's leadership and advancement. As a participant in the "Men as Allies" workshop, she engaged with peers and male leaders and facilitated discussion on where and how male executives can make the necessary changes and transform the environment for women's advancement.

Shelley spends a lot of time working with Universities around the world on programs to encourage more young women to join the field of Cybersecurity.  She is a frequent speaker at external events and within the media to stress the importance of women in Cybersecurity.
Role Model:
Shelley has been the catalyst to drive meaningful topics and speakers, as well as engage community members to participate in events such as International Women's Day. Shelley has taken her leadership and experience with WISE to other companies who were looking to create a similar community within their company.

Shelley is an active member of the IBM Super Women's Group, a community of women in IBM worldwide, focused on advancing women in technology and leadership positions. She has been a valued member of several panels, sharing her experiences and knowledge on leadership qualities, traits of a cognitive woman, and work-life balance. Shelley has continued to impress the female community at IBM with her leadership style, caring and supportive presence, and 'can do' attitude, to where women both in security positions as well as those in other areas of the business seek her out for advice and mentoring and shadowing opportunities.  
Reinvention / Risk / Momentum:
Shelley has created a new path so many times…from moving out of law into IBM, to pioneering new roles at IBM (where she was the first person to have that role), to her groundbreaking work on women in Cybersecurity. She is a true inspiration to so many!
"Shelley has relentlessly led the charge for empowerment of women in Cybersecurity, using internal and external social media platforms to communicate her messages."