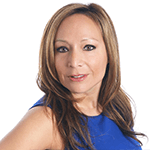 Vanessa Alvarez: Successful Tech Executive Breaking the Ceiling for Latinas
Marketing Executive, Amazon Web Services
Twitter: @vanessaalvarez1
LinkedIn: https://www.linkedin.com/in/valvarez1010
---
Bio: Global Marketing Manager, Amazon Web Services; previously, Product Marketing-Storage Solutions, Amazon Web Services; VP Marketing, Scale Computing; Director, Product Marketing, Gridstore; Analyst, Infrastructure and Operations, Forrester Research; Industry Analyst, Frost & Sullivan;  Analyst, Yankee Group.
Innovating in Field of Work:
Her role at AWS is to help companies understand the value of cloud computing, and leverage the innovation of technology to increase business value

Working in technology allows her to explore what the future of technology looks like and what it means for businesses. Areas of personal interest are artificial intelligence and machine learning

Named Top Women in Cloud Computing 2013, 2014
Impact:
Paving the way for other women and Latinos in technology sector

Working with Latino Activists in low income neighborhoods in Rhode Island, where she grew up, to elevate profile of technology as a viable pursuit for girls

Advisory Board, CloudNOW

Cloud Expo, Conference Chair, SYS-CON Media, 2014
Role Model:
1

st

generation Latina, 1

st

in family to graduate from college, Conscious role model for younger girls, Latinas in particular, who are blind to their possibilities, and feel limited by the circumstances of their upbringing and cultural beliefs

Member CloudNOW, a women's organization to promoting women in technology, and working with educational organizations to encourage girls to learn about the importance of technology
Reinvention / Risk / Momentum:
Vanessa is the daughter of immigrant parents; raised by single mother in a poor Latino neighborhood. Vanessa disrupted herself out of a cycle of poverty and domestic violence in her childhood. She didn't let it stand in her way and despite many obstacles along the way, stayed on the path to what she wanted to do. She worked to put herself through school, and leveraged the many mentors, both male and female, throughout her career, to evolve herself, personally and professionally. She continues to evolve, and now mentors others out there who are looking to grow.
"I take my childhood experiences and learn from them instead of blame them….It's what drives me and makes me want more for other Latina girls out there, give them hope that anything is possible if you want it enough and work hard to get it."