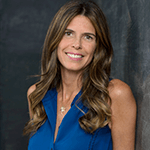 Vanessa Schenck: Empowering Tween Girls
Founder, TIA Girl Club
Twitter: @tiagirlclub
LinkedIn: https://www.linkedin.com/in/vanessa-schenck-904946a6
Website: www.tiagirlclub.com
---
Bio: Founder, TIA Girl Club; Co-Founder Girl32; marketing at W.
Innovating in Field of Work:
TIA stands for "Today I Am"—Today I Am Smart, Beautiful etc. (teaching an empowerment language).

TIA teaches girls to preserve their identities through three pillars: contact with powerful female role models, connecting with other TIA Girls, and reinforcing empowering messages.

TIA provides empowerment subscription boxes (the TIA Treasure Box), which include mentor profiles, advice, interviews and just-for-fun items.

Vanessa established TIA Girl Club to combat a phenomenon child psychologists call 'camouflaging,' where tween girls disguise their personalities and adjust their behaviors to fit in with their peers, often with a loss of self worth.
Impact:
TIA's membership has grown to more than 10,000 girls in its first 18 months.

TIA has been covered in

Teen Vogue, GMA, Fox News

,

The Joan Hamburg Show

, and

Sandyland

on Sirius XM, among other news outlets.

Vanessa provides daily messages of empowerment on Instagram and she receives daily messages from members whose lives are being changed by TIA.
Role Model:
Vanessa is determined to change the conversation about girls' obsession with appearance, social status etc., to help shape tomorrow's women.

She connects the TIA community with confident role models (called TIA Trailblazers) showing girls how to preserve and pursue their dreams.

Vanessa is a Huffpost Blogger and sought- out expert on the phenomenon known on camouflaging.
Reinvention / Risk / Momentum:
Met crowdfunding TIA Girl campaign goal on Kickstarter the same day her husband was diagnosed with metastatic cancer.

Stayed the course through his treatments to conclude a successful Kickstarter and other intensive startup activities.

TIA has partnerships with Girls Who Code, Glassbreakers, Jewelbots, and others.
"By strengthening girls at an age when they are bombarded by confusing and belittling messages, Vanessa is helping to build a world of feisty and fearless women."