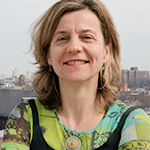 Yvette Alberdingk Thijm:  Human Rights Leader Exposing the Truth
Executive Director, WITNESS
Twitter: @yvettethijm
LinkedIn: https://www.linkedin.com/in/yvettealberdingkthijm
Website: witness.org
---
Bio: Executive Director of WITNESS; foundationcenter.org (Trustee), AccessNow.org (Board Member), Majal.org (Board Member),  formerly (Executive VP, Business Affairs) MTV Networks International; Joost (Executive Vice President, Content Strategy & Acquisition)
Innovating in Field of Work:
Employs media and technology (cell phone video and visual data and platforms to share it) to advocate for and advance global human rights

Outspoken champion of a new narrative for human rights advocacy, promoting community and partnership over male narratives of heroism to generate sustainable activism

Vision to empower any mobile phone user anywhere to capture and share human rights abuses in a safe and effective way so that more video can result in more justice and rights

Democratizes human rights advocacy, enabling millions of participants, moving it out of limited realm of 'experts'
Impact:
Generates an organizational culture by promoting equal voice, trust, and policies maximizing personal flexibility

Evolved from an individual leader to networked leadership to build capacity in others

Empowers everyone to stand up for human rights and freedoms
Role Model:
Chair of the Board and active mentor to young Bahraini woman who leads—Majal.org, amplifier of underrepresented voices, with female developers dispersed across Middle East working at great personal risk

Co-led two women's leadership retreats in Mexico—Women, Spirit, and Power—developing networks of support among human rights defenders worldwide

Yin over yang approach to reduce trauma and burnout among human rights professionals
Reinvention / Risk / Momentum:
Drastically altered path throughout career. From corporate media exec to disruptive tech start-up to human rights change-maker, she remains true to self. In doing so, she forged new paths for herself and others.

Actively defies traditional roles, transgressing boundaries and definitions, both as a leader and as a strategist for social change. Applying all the things she learned along the way in new and unexpected ways – right now: media and technology for human rights.
"To make today's society just and sustainable, 21st century approaches must be applied –sharing resources and knowledge opens up more for all."