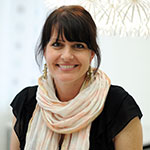 Welcome to the Forty Over 40 blog. Every week we spotlight one of our honorees and their thoughts on reinvention, mentorship and momentum…plus a peek into what makes them tick.
This weeks Q & A is with Erin Newkirk, Founder and General Manager of  Red Stamp, a Digital and Paper Correspondence company that allows you to send stylish invitations, gracious thank you notes, heart-warming photo cards + more from your phone or on the web.
1. What was a pivotal momentum of reinvention for you?
Realizing it's not only ok to be different, it's vital. If people don't think what you are doing is risky, you will fail.
2. Who has been a valuable mentor or sponsor? 
I cringe at this question because my list is looooong. So, I think I might have to bend the question a bit and list two people who I simply couldn't have made this list without Joanne Wilson and Riley McCormack. As one of last year's honoree + all around superstar, Joanne needs no introduction. Not only is she a dazzling connector with a brilliant gut, she has a very kind heart. I am so grateful. The second, Riley, is my lifelong friend + sounding board. He is also my brother + business partner. Without his vision, straight talk and support, I would probably still be hanging my hat in Corporate America.
3. What is your biggest goal right now?
Paying it forward and back. We were acquired almost one year ago and have been working hard to realize the vision of Red Stamp. Spoiler alert :: there is a lot of exciting stuff happening in our world of #FabulouslySocial this year!
4. How did you get your first job? How did you jump to your second job?
Networking. I didn't know anyone in the town I moved to after graduation, so I reached out to my sorority and they connected me with the regional manager at Kaplan Educational Centers. We hit it off, she took a chance on me + in return I worked like crazy to help her grow our region's sales by +15% which led to all kinds of opportunities within the organization. I was a regional marketing director of a multi-million dollar region within 18 months.
5. What time do you typically wake up? What do you do every morning?
Most days, I wake up at 7:05am – my alarm is set just after 7 so I don't tap snooze. I get up, drink about a pot of coffee with skim milk, hang/prep/eat breakfast with my son before he heads off to school, take my pup for a quick walk, and then roll up my sleeves and get to work.
6. How did you feel on your 30th birthday? What were you doing at that time? 
Having a dinner party with my closest friends. Drinking wine, eating good food, supporting a local business, and laughing non-stop – pretty much my dream scene.
7. What was the last business book you read?
Thrive. The Third Metric to Redefining Success and Creating A Life of Well-Being, Wisdom, and Wonder. By, Arianna Huffington
8. What cause do you most want to advance?
Over the past year, I've become pretty involved with Share our Strength // No Kid Hungry. 1 in 5 kids in America struggle with hunger. How can a country with so much still have pockets with so little?
9. What is the best piece of advice you ever received?
You only have to succeed more times than you fail.
10. What is your "keep me going" quote?
"There is no such thing as failure. Only market fit."
You can follow Erin on Twitter at @erinnewkirk and see her full 40 Over 40 profile here.